I'm A Celebrity 2019: Angie And Yvie Spill Secrets On Their Campmates
Famous for their couch commentary, the former 'Gogglebox' stars hit up the Tok Tokkie to dish on their campmates.
Complete with Sissy the stuffed dog, Angie and Yvie (wearing her very fashionable jungle earrings she made from some leaves) revealed their thoughts on the other celebs around camp, starting with none other than Justin Lacko.
"He's got many layers actually," Angie said before clarifying, "maybe like… three."
"He's like a protected species, we just want to protect him," Yvie added.
The pair agreed that Ajay Rochester is an absolute battler, "She gets knocked down and she just gets back up again," Angie and Yvie were also hugely complimentary toward Natasha Exelby calling her the "backbone" of the camp.
READ MORE: I'm A Celebrity 2019: Shane Crawford And Justin Lacko Get Pantsless, Leaving Julia Morris Speechless
READ MORE: I'm A Celebrity 2019: Luke Jacobz Dedicates His Luxury Item To His Dad
"She seems to get to everyone and she just props them up, for no reason other than to just do that," Yvie said.
Turning their attention back to the fellas, the ladies were big fans of Luke Jacobz and Dermott Brereton.
Calling him "Dermett the DILF" or "the Derminator", Angie couldn't decide if she wanted the AFL legend as her dad or her boyfriend while the pair agreed he had an "x-factor" about him.
But it was former X Factor host Luke Jacobz who has really won the pair over.
"If we could bottle Luke and make heaps of him and just have him everywhere we are in the world... in life," Yvie gushed, "You'd just have a little drink of Luke every day."
From the perfect man to the man you want to marry, Luke scored an A+++ review from the gang -- and it's easy to see why.
After dishing about her favourites in camp, Yvie also revealed her favourite way to troll people online.
Chatting to Tash in camp, Yvie promised to "poke" the journalist when she gets out of the jungle and back to wi-fi.
"I get poked all the time," the former Gogglebox star said.
Admitting that there is absolutely no point to poking (are you LISTENING world?), Yvie also said that she loves poking her younger friends, "Because they go 'Oh she doesn't know how to use [Facebook] properly'."
READ MORE: I'm A Celebrity 2019: Shane Crawford Didn't Tell His Kids He Was Going Into The Jungle
This tweet is unavailable or no longer exists.
This tweet is unavailable or no longer exists.
This tweet is unavailable or no longer exists.
And while the troublemaker was ready to have a laugh, we can't help but feel like our hearts are truly warmed after watching Tash utter the words, "Do you want to be my Facebook friend?"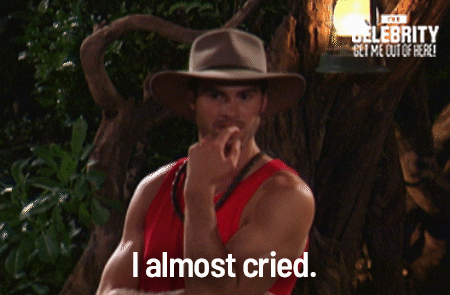 I'm A Celebrity… Get Me Out Of Here! airs Sunday to Thursday at 7.30 on 10 and 10 Play. I'm A Celebrity Saturday Schoolies airs Saturdays at 7 on 10 and 10 Play.