Sacha Baron Cohen Wants Sarah Palin To Be His Golden Globes Date
Sacha Baron Cohen has asked the former Vice-President hopeful if she'd like to walk the red carpet with him.
Baron Cohen has been nominated for a Golden Globe award for Best Performance by an Actor in a TV series Musical or Comedy in Who Is America?
The comedian managed to pull the wool over the eyes of a number of Republican politicians including Dick Cheney and Roy Moore in a series of satirical interviews aired on the Showtime series.
And instead of asking his own wife -- Australia's Isla Fisher -- to accompany him to the Globes, Baron Cohen has rudely snubbed her in favour of his dream date and Tina Fey lookalike, Sarah Palin.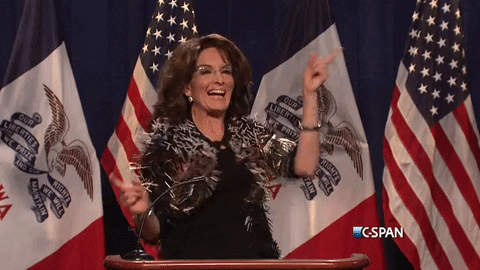 "I appreciate the Hollywood Foreign Press for recognising me, which luckily is something that none of the guests on the show did," Baron Cohen wrote of his nomination, Deadline reports.
"It is a shame they overlooked the amazing performances by the rest of the cast, particularly Dick Cheney and Roy Moore," the comedian continued.
READ MORE: Sacha Baron Cohen Takes On Trump In New Show
READ MORE: The 2019 Golden Globes Nominations Are Out
"Meanwhile Ms Palin, despite being cut from the show, I hope you will accept my invitation to be my date for the ceremony," he wrote in the open letter.
The former governor of Alaska -- and presidential running mate of John McCain -- has not yet responded to the exciting invitation.
But Palin was never really on board with Saturday Night Live poking fun at her every week in 2008 so there's probably a slim-to-nil chance she'll hold the arm of Borat on the Golden Globes red carpet next year.
Main Images: Getty Images.