The Bachelorette 2018: Todd Was Completely Sure He'd End Up With Ali
"I was completely sure it was going to be me, 100 percent sure it was going to be us to the end."
After the emotional finale that saw Ali choose Taite over Todd, we caught up with the 26-year-old, looked into his dreamy eyes and asked him the question that was on everybody's lips: Was he planning to propose to Ali?
"It was an engagement ring," Todd told 10 daily, "but I was just going to feel out the moment, honestly. I wasn't going in hellbent on dropping to one knee... but the option was there."
While it was emotional, Todd said the whole Bachelorette experience was a lot better than he ever predicted. "I didn't subscribe to the fact that you could fall in love on reality TV and now I know it's possible," he said.
READ MORE: The Bachelorette 2018: Basically Everyone Wants To Marry Hot Todd
READ MORE: The Bachelorette 2018: Twitter Reacts To That Wild (And Heartbreaking) Finale
"I'm a big advocate for that now, at the very least you grow as a person," Todd said, "You get clarity on what you're looking for and what suits you, I suppose."
Of course, it's a surreal environment to be attempting to make a real connection in, and for Todd -- whose relationship with Ali really kicked off later in the season -- there was always a nagging feeling of doubt.
"You don't really know whether it's real or not until you step out of the bubble," he said, "you're always questioning -- are you playing it up for the show? Is it just the show making you feel the way you do?"
"Stepping out of it and still being heartbroken, still having these emotions... it makes it all real," he added.
The intensity of the show and the demands of having to have conversations about marriage and babies on a first date really threw him off course. Calling the experience "amplified to the max", Todd shared that he still felt like he and Ali were heading in the right direction.
"I was so ready to tell her I loved her and I almost didn't because I was like, 'You're not really feeling this way, this is just the show getting to you'," Todd said. "There were always those doubts, but there was more to lose in not saying it."
Todd went on to say that watching the whole season back and having to post on social media as if he could still have won right up to the last minute was tough, but later added that it gave him the time to process the breakup. That didn't stop him from crying while he watched it, though.
"I don't know if it was the backing track but, yeah I cried," he laughed. "It was okay to watch her and Taite -- if it had been her and Charlie with me being the runner-up, I think it would have been different."
"I would have had a lot more questions, put it that way."
READ MORE: The Bachelorette 2018: Ali And Taite Are "More In Love Than Ever"
READ MORE: The Bachelorette 2018: In The End, Ali Risked It All For Love
Following the finale, Todd was flooded with support from friends, family and a hoard of new fans which he said helped him deal with all the emotions coming back after all these months. One thing he may not have been expecting was all the calls for him to take up the mantle of the next Bachelor.
"My immediate thought was that I'd prefer it over [Bachelor in] Paradise," Todd admitted, "but I'd have to be in the right headspace."
"I know very little about it, and what I do know is that it's a gruelling process. It's harder to hurt someone than it is to get hurt... so you have to weigh those things up."
It wasn't a surprising answer from Todd, after viewers saw just how well he took the breakup. Right after Ali told him she was looking for something else, he told her how happy he was for her finding happiness with Taite.
Todd told Ali, "If you do ever need me, I'll always be there. You've chosen a good man, and as much as it looks like I'm sad, I'm happy for you."
It almost appeared as though he had thought about how to handle the bad news ahead of time, but it turns out that courteousness is just what comes naturally to Todd -- in fact, he wasn't expecting bad news at all.
"I was completely sure it was going to be me," he admitted, "100 percent sure that it was going to be us to the end. What you kind of didn't see was the fact that I held Ali for like 15-20 minutes while she just cried."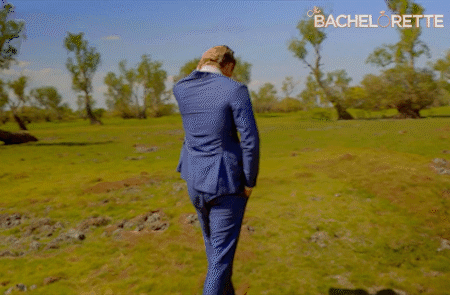 "It was obviously really hard on her, I felt the obligation to be there for her as much as to try and keep my emotions in check... which is why I collapsed after I walked away."
"It honestly felt like a massive kick in the guts."
But it wasn't all bad for the man we've now come to affectionately know as "Hot Todd", as he said he was warmly supported by friends and family, and the many, many (many many many) messages from people sending him love, well-wishes and probably offers for dates.
"It's been insane. It's not even people flirting or hitting on me, it's just everyone's so supportive," Todd said. "I feel an obligation to reply to everybody which is why -- people ask why I haven't put anything up yet, it's literally because I'm replying to everyone."
If you'll excuse us, we have some DMs to send.
MISS AN EPISODE? CATCH UP ON 10 PLAY!
Want More Bachelorette? Check out Unpacked on 10 PLAY.