Studio 10 Celebrates 5 Years With Style, Celebs and Sequins!
Studio 10 will never be a show to shy away from a celebration.
On Friday, the show celebrated five years on the air, brightening up our morning with a lot of laughs along the way.
So grab the smelling salts, because it was a BIG show!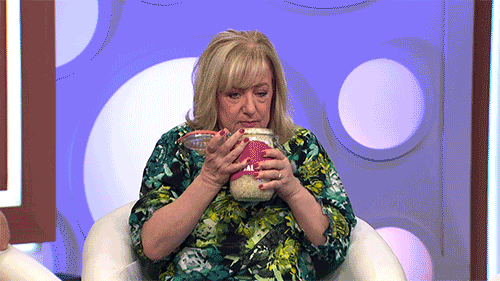 The team grooved on to the set looking FAB as always and even got a little birthday choreo from PAULA. FRICKIN. ABDUL.
This tweet is unavailable or no longer exists.
Okay, so it's gonna take us a hot minute to recover from that full-on musical-tribute birthday message but it's on to the next with a really sweet trip down memory lane, over what's been a great and fun-filled five years of Studio 10:
From bouncing baby announcements, breaking stories including the Manchester Arena bombing live on air, puppies pooping on set, plenty of snort laughing from Jess, reporter David Robinson putting his life... and stomach on the line more than once, Joe in drag, Sarah being nominated for a Darwin Award... and of course Denise Drysdale, Angela Bishop, Denise Scott and KAK joining the desk, Studio 10 has had a hell of a ride!
READ MORE: TV Legend Kerri-Anne Kennerley Returns To Ten In Spectacular Form
Backed by Angela Bishop and Craig Bennett, Studio 10 has always delivered on the entertainment front.
Ang has snagged interviews with some of the biggest names in the world: The Rock, Nicole Kidman, Chris Hemsworth, Ricky Gervais, Tyra Banks and Robbie Williams; rendering Ryan Gosling speechless and even making Harrison Ford laugh in an interview that's been seen millions of times.
Craig Bennett has brought his own bubbly champagne personality to his incredibly up-close and personal interviews with stars like Paula Abdul, Angela Lansbury, Fabio, Fran Drescher, Judith Durham, and Patricia Routledge. Perhaps his most infamous moment though was being just a little bit shocked by glitter cannons and dropping Katherine Kelly Lang's birthday cake... Seriously, they're still making jokes about it.
This tweet is unavailable or no longer exists.
He's been cupid, naked (a few times...), a cheerleader, Spock, a banana and even Rose from Titanic... Simply put, Studio 10 just wouldn't be the same without him.
READ MORE: Jonathan Coleman On His Brave Cancer Battle: "I'm Bloody Lucky"
He can even sell you a vacuum cleaner.
With the whole gang on set, it was fina... oh no, wait a minute. We're missing someone...
That's right, JESS ROWE IS IN THE BUILDING!
One of the original four panellists, Jess joined the panel for the morning, reminiscing on cooking disasters, snort-laughing and what a special experience Studio 10 had been for her.
READ MORE: Jessica Rowe Takes The Cake For Best Surprise On Studio 10's Birthday Celebrations
As well as Jess departing in early 2018, Ita Buttrose also left the show earlier this year in order to spend more time with her family, and was asked to join the team for the birthday show, but had a previous engagement in WA, with Sarah adding: "She has the most irrepressible stamina and we are devastated that she is not here with us today and we are sending her all of our love!"
Next, the team were joined by a cast of show favourites, including regular guest host Natarsha Belling as well as friends Sandra Sully, Richard Reid, Todd McKenney, Susie Elelman, Peter Berner, Anna Kooiman and more!
It wouldn't be a Studio 10 celebration without some fun either, and in case Jess popping out of a cake wasn't enough for you, it was time for the hosts to face up to some good old fashioned trivia or get caked.
With a quick game of "Cake in the Face" to wrap up the show, Sarah, Joe, Pete and Denise copped a nice mushy chocolate cake with whipped cream to their face with the inimitable Ang Bishop dodging her cakey fate.
There's really no way to top wearing dessert, so we'll leave you with this: as Amanda Keller said in her birthday message, "Five years in the television world is a million years in any other career".
Congratulations, Studio 10. We can't wait for the next 5 years!