Netflix Working On Chronicles Of Narnia Series And Films
Grab your lion, witch and most comfortable binge-watch outfits from the wardrobe because Netflix is heading to Narnia.
The streaming service announced this week that they were planning not just a TV series, not just some original movies, but a series AND films based on C.S. Lewis' Chronicles of Narnia series.
The major content plan will be in partnership with eOne, and the streaming giant has a ton of content to work with, considering Lewis wrote seven Narnia novels.
While this isn't the first time the novels have been adapted into films or a series, it is the first time the rights of all seven novels have been held by one company.
READ MORE: The UK's Most Popular Show In A Decade Is Coming To Netflix
READ MORE: New Season Of Black Mirror To Feature Choose-Your-Own-Adventure Episode
Lewis' books The Lion, the Witch and the Wardrobe, Prince Caspian and The Voyage of the Dawn Treader were all turned into major motion pictures, but Dawn Treader's middling reception meant the film adaptations never made it to The Silver Chair.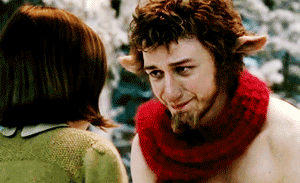 While Dawn Treader managed to make $415 million USD worldwide at the box office, it and Caspian never lived up to the massive success of the first film, which made $745 million USD worldwide when it was released in 2005.
"It is wonderful to know that folks from all over are looking forward to seeing more of Narnia," Lewis' stepson, Douglas Gresham said in a statement, "and that the advances in production and distribution technology have made it possible for us to make Narnian adventures come to life all over the world."
"Netflix seems to be the very best medium with which to achieve this aim, and I am looking forward to working with them towards this goal."
READ MORE: Chelsea Peretti Announces She's Leaving Brooklyn Nine-Nine
Meanwhile, Ted Sarandos, chief content officer at Netflix said, "C.S. Lewis' beloved Chronicles of Narnia stories have resonated with generations of readers around the world".
"Families have fallen in love with characters like Aslan and the entire world of Narnia," Sarandos continued, "and we're thrilled to be their home for years to come."
Featured image: Walt Disney Pictures.