The Bachelor 2018: Here's The Rundown On The Top Three
It's been a long season of sporting dates, clumsily poured sparkling wine, and of course, romance.
After last week's hometown dates, that saw the end of Cass' Bachelor journey, we've come down to the final three: Brittany, Brooke and Sophie.
With three gals all vying for Nick's heart, we figured we'd sit down and give you the rundown on who we think will be the one left standing with the final rose, the Honey Badger himself, and maybe even... a ring?
Look, who knows what's going to happen this week. We've been asking to see the eps, and readers, believe us when we say that they're keeping these eps on lockdown! We can't imagine why, we're extremely trustworthy!!!!!
:)
Anyway! Here are our thoughts on each of our lovely finalists.
Brooke
Stephanie: Honestly, I think Brooke should be the winner. She laughs at all his jokes, they seem like they have a lot of fun together, and he seems to genuinely care about her. No awkward silences there! Also, she's usually the first pick for extra time when Nick -- or his family -- gets to choose.
Jess: Brooke has hands down been my fave since day one. Honestly, what's not to love about her??? She's sweet, down-to-earth, drop dead gorgeous, and knows things about football -- which frankly does nothing for me, but I'm sure that's a definite plus for old mate Honey Badger. If she gets her heart broken I'll probably be the one leading the pitchfork brigade... Just sayin'.
Mat: If there was a competition for perfect angels, Brooke would be on the judging panel because she's too perfect an angel.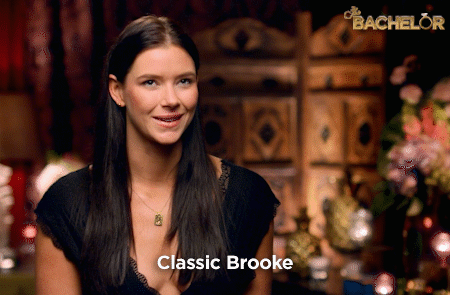 Brooke and Nick have had a ridiculously strong connection since day one but I will say their home visit didn't feel like it went as great as some of the others (Britt).
READ MORE: The Bachelor 2018: Cass Says Part Of Her Will "Always Have Feelings" For Nick
READ MORE: The Bachelor 2018: Horses And Hometowns, Hugs And Heartbreak
Brittany
Stephanie: Honestly, I don't know if Britt has the stamina to go all the way... I kind of feel like Brooke has her edged out romantically, and I think Soph has more sexual chemistry with Nick, so Britt kind of feels like... I mean, she's gorgeous, and she obviously cares about him a lot. I guess she just kind of feels like a safe choice for me. Unless her dad kills him, that is. What a plot twist that would be!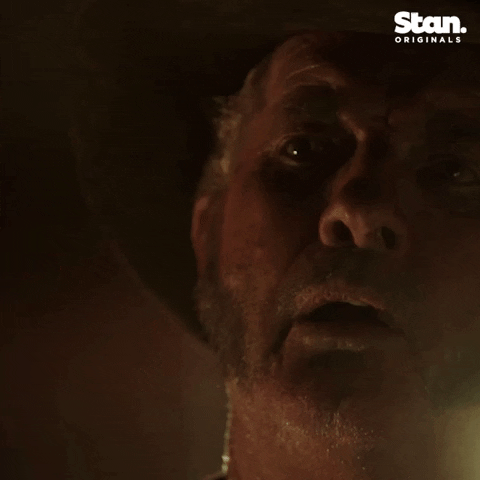 Jess: Britt's dad a a national bloody treasure, I say. But yeah, I'd be surprised if Papa Hockley hasn't completely scared Nick off from the prospect of dating Britt, tbh.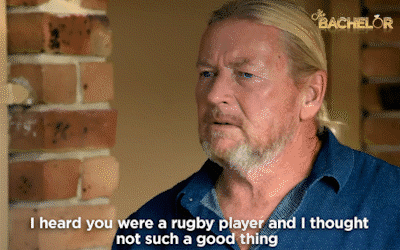 Everything seems to be pointing to Britt as the winner (I think I saw somewhere Nick's sister sent her an FB comment saying "Happy Birthday"?) but I agree with you that it would be going with the safe option. Yawn.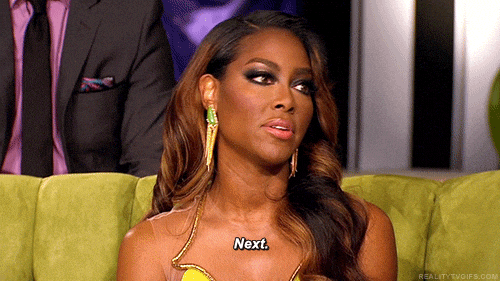 Mat: All of Brit and Nick's dates together have been like incredible postcards for happy couples. The pair of them LOOK great together (similar heights, both extremely good looking) and you can tell that they're both interested in the connection they have together so I may not be a betting man but I definitely think Britt has this in the bag.
READ MORE: Get Your TL;DR Rundown on Everything "The Bachelor"!
READ MORE: Here's Your First Look At Ali Oetjen As The Bachelorette!
Sophie
Stephanie: These two are like, a hundred fire emojis? Here's the thing though, Nick keeps saying how Soph has trouble "opening up" but I think maybe they just don't have the same kind of romantic connection that he has with Brooke or Britt. I kind of get the vibe he just wants to bang her, tbh, which is weird, because they seem pretty compatible? But I think she'll be the one going home tomorrow, unfortunately. #Soph4Bachelorette though!
Jess: Look, Sophie seems like a super cool chick and all, but I just don't feel a genuine ~connection~ between her and Nick as much as I do with the other two -- besides from their scorching hot physical chem, obvs.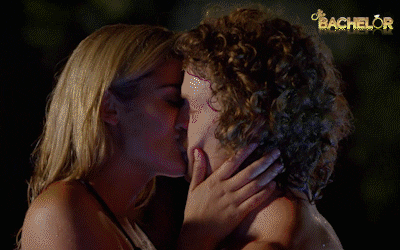 Though I did read somewhere that she's relocated to Sydney since the show, so who knows?? I totally agree with him just wanting to bang her -- she's v. v. hot and he'd be a fool not to see that, but I reckon she'd be better matched with someone else. AGREED -- Next year's Bachelorette, perhaps?
Mat: Sophie has been a quiet achiever in this series. Looking back on the season, she's managed to keep out of most of the drama, and seemed to forge a pretty sincere connection with Nick. Unfortunately, I feel like she may have been TOO quiet of an achiever, and I just don't know if she was able to break down enough barriers to convince Nick to really invest in their future together.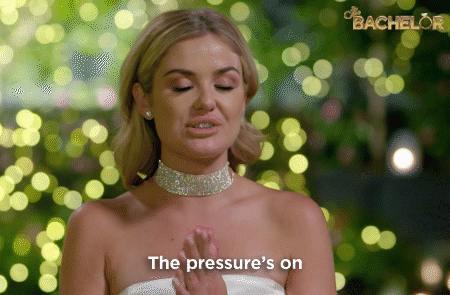 Final Thoughts
Stephanie: Although Vanessa Sunshine has won the season of my heart, and of every season to come, for the rest of my life, my money is on Brooke or Britt to be named Nick's love on Thursday night. Sorry Sophie! I love you! Out of my personal top two, I don't knoooooow... maybe Brooke??????
Jess: I'm still holding out hope for our fab idea of Vanessa Sunshine for Bachelor In Paradise but call it Sunshine In Paradise... But my money is on Brooke or Britt for the Badger's final pick. Like I said, Sophie is a total 10, but I just can't see them working out on a more-than-physical level. Also if Brooke doesn't win I demand she become the next Bachelorette -- but with guys and gals competing for her love!
Mat: I think it has to be Britt at the end for Nick, she and he could totally be happy together. Also I hope Brooke and I become best friends and we can hang out together all the time and talk about boys. Meanwhile I think Sophie would be an ICONIC addition to Bachelor in Paradise and you can't tell me I'm wrong about that.
THE BACHELOR AIRS ON WEDNESDAYS AND THURSDAYS AT 7:30PM, ONLY ON TEN AND WIN NETWORKS. MISS AN EPISODE? CATCH UP ON TENPLAY!
Feature image: Ten