Australian Survivor 2018: Steve Willis Breaks His Signature Silence
During his time on 'Australian Survivor: Champions Versus Contenders' Steve "The Commando" Willis had a reputation for saying a lot with very little.
He was a man of very few words, but when he did speak-up he very rarely held back. In his final Tribal Council on Tuesday, Steve took his role as "dead man walking" to heart and with nothing to lose he left everything on the line.
"I had resided in my fate, Dead Man Walking. The decision was in their hands and, at the end of the day, it came down to the empathetic, compassionate side of what it means to be human," he said adding, "or the element within any person who wants to further their game."
"By not having me around, that probably helped others to further their game," Steve told ten daily following his elimination.
When it comes to the game, Steve was always seen as a major threat. Physically he's like a gorgeous mountain of muscle with the most intense stare, and a bulk of the votes that ended up going to him were based on the notion that he was a threat in challenges. Despite him never winning individual immunity.
READ MORE: Australian Survivor 2018: Hell Hath No Fury Like A Commando Scorned
"I hadn't won any of the challenges... but I also had intentionally not applied myself to the point where I got caught up in the competition side of things," Steve admitted, "I didn't want to draw too much attention to myself and have people worried I was a challenge threat. Mat was doing enough of that, Sharn was doing it."
"I'd definitely [pull back]," Steve said again, in his mind he never saw taking out the challenges as his main goal. "Just to prove what? It's not about winning any one challenge; it's about winning the game of Survivor."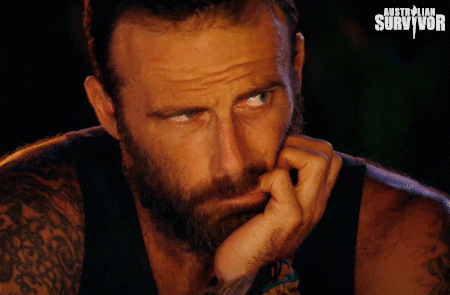 This season, many of the game's biggest players have been blindsided due to their physical presence. The likes of Lydia, Robbie and even Mat were all booted due to their physical prowess in challenges. For Steve, being voted out as a threat seemed like a cop-out.
"The empathetic side of our nature says, 'You know what, we've given him Dead Man Walking, that's enough. I want to see him around for the next one... I want to put myself against someone who'll challenge me'," Steve said.
READ MORE: Australian Survivor 2018: Dead Man Walking!
"You only go up against the best to win the title of the best. You don't vote out the best and play against the weakest, but that's what Brian did -- and that's the game of Survivor."
Unfortunately, Steve's game was unpinned by the new alliance with King Grub Brian, Shonne, Fenella and Monika banding together to vote out another of the original Champions. For Brian, it was a day he had long waited to see.
"Brian was willing to do just about anything to win the game of Survivor and I wasn't," Steve said.
The Commando was hit with a double punishment on Monday being voted "dead man walking" which stripped him of the ability to vote for the next two Tribal Councils. Then it was revealed he'd have to spend a night on exile beach, only re-joining the other castaways for the immunity challenge the following day.
For many, exile beach was a looming punishment, a test of their mental strength. For Steve, it looked like a reward.
The only downside to Steve's retreat and time to reflect and zen out was being left out of the conversations around camp. "A lot can be done and said amongst the others," he admitted. Despite Sharn and Shane's best efforts, they were unable to sway Monika back to vote with them. Following a three-way tie, the votes fell almost unanimously toward Steve.
At the end of his fight to keep his torch lit, Steve still looked back on his time without disappointment.
"If you go into things with expectations that you're going to win and you fall short, there's disappointment. You tend to overlook a lot of the beauty and learnings that can come from those small experiences because you've got those blinkers on to be the sole survivor."
"I'd do it again without the gameplay, without challenges, without there being a sole survivor or any money on the line," Steve said, "but that's the sort of human I am."
"I don't need anything to be happy. Survivor taught me that."
"What Survivor provides -- or it showcases -- is that there's a need when things are stripped away, to be able to survive," Steve said, "Not just in the facets of survival, but also in the social aspects, communication and understanding of others, morale and bonding."
There were some decisions Steve said he regretted regarding the way he and his alliances voted. Crossing Samuel, Lydia and even voting out Tegan when he believed the Champions had an opportunity to vote out Brian.
But when we asked if he had any regrets he smiled and admitted, "As to how I played the game, no."
"Just would have been nice if -- on his way out -- Mat would have slipped me his idol... that would have been sweet."