Australian Survivor 2018: Benji Has No Regrets, Not Even The Nachos
The Contender played the game he always set out to play.
After the intense Tribal Council that saw Mat blindsided, we thought it would be a smooth ride for the newly minted Mighty Ducks alliance to vote out anyone who stood in their way, but if we've learned anything from this season of Australian Survivor: Champions Versus Contenders, it's that as soon as you get too comfortable, it's your torch that's snuffed.
To catch you up, on Monday Benji made the bold play to spook Sharn out of using her immunity idol to keep Mat safe, ending the sporting legend's time in the game. It was a risky move, but he felt like it was the right one.
READ MORE: Australian Survivor 2018: That's The Way The Kingdom Crumbles
The next tribal council, tensions ran high.
"It was really awkward," Benji said to ten daily, "nobody knew what to do. I feel like a lot of people had been following Mat around and they were lost and scattered."
Love him or loathe him, Benji was one of this season's biggest players. His every move consisted of lies on top of lies -- to the point where he was trying to convince Brian that Sharn was making moves against him while Brian was wearing the immunity necklace.
This tweet is unavailable or no longer exists.
"I'm a very polarising character so you got to expect people go to the extremes. I just like to surround myself with the love in that extreme," Benji said about the reaction to his gameplay strategy.
"Everything I do in my life I do for fun, so I wanted to go out and have fun and play a big game," he said, adding: "Anything can happen in Survivor". Playing the game "under the radar" was never an option for the 26-year-old.
The big question remains, and it's the exact same question we posed to Mat just hours before: why didn't they play their immunity idols? Both Mat and Benji walked out with idols in their pockets. Following Russel's bluff early on in the season, Benji is the third member of Champions Versus Contenders to leave the game with an idol in his possession.
"Apparently you're supposed to play these things," he joked.
READ MORE: Australian Survivor 2018: Mat Never Considered Playing His Idol
"I thought [Shonee's] vote advantage would have carried me through the round," Benji admitted. What he didn't expect was to go to a tie-breaker, where the vote advantage wouldn't carry over.
Because Shonee chose Sharn's vote to steal, her advantage was negated in the tie-break when both Sharn and Benji weren't part of the vote. Despite not playing the idol, he admitted he had no regrets.
In fact, his only regret -- if you could call it that -- was that he wasn't more of a troublemaker.
"There was one time where I wanted to write Zach's name and pin it on someone else," he said laughing, "I didn't end up doing it but I wish I did... a lesson in life is to do whatever you want to do, don't wait for permission."
The love of Survivor runs deep in Benji's family, his younger sister Annalise competed last season. Benji managed to last a day longer than his sister.
"She gave me a lot of advice but season to season it's so different, so some of the advice, with the different characters, it can be almost counter-intuitive," Benji said.
Whatever you thought about Benji's gameplay style, one thing was universally agreed upon: no one can forget the nachos.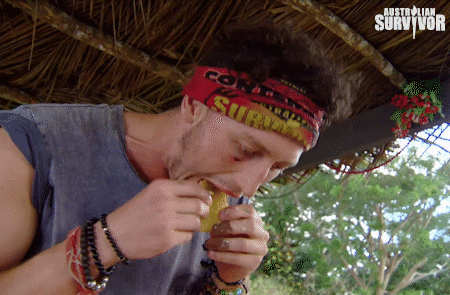 "I would probably judge you if watching that didn't change the way you look at nachos," he said adding, "people thought I was gross but [Robbie and Heath] still ate them..."
It'll be a very different tribe following Benji's exit, but as the fourth member of the jury, we can imagine he still has a few tricks up his sleeves.