Australian Survivor 2018: Zach Loves Watching You Unravel
The Alpha Wolf met his end.
It was the Tribal Council that Australian Survivor fans were frothing for, to see the self-titled Alpha Wolf, Zach, have his torch snuffed.
Following his elimination we spoke to Zach about the very strong reaction people had to his time on the show.
"I crack myself up," Zach told ten daily.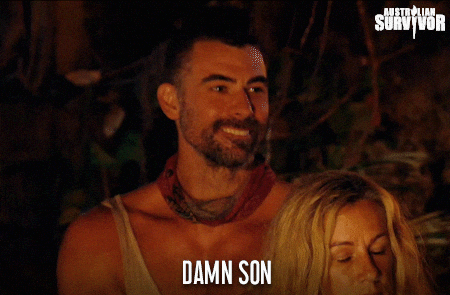 There's no denying that Zach was an absolute beast in the challenges, something the Contenders have struggled with recently, losing the last handful of challenges forcing them into a series of Tribal Councils.
The 39-year-old had a secret weapon: he used to be a Gladiator.
"Obviously I've been working out ever since I was a kid, so doing something like [Gladiators] was right up my alley," he said.
(Please enjoy this compliation especially the bit where Zach -- aka Hunter -- calls a dude a "very tricky little bunny".)
The personal trainer might have brought a bit more of his Gladiators alter ego to his tribe, taking a bit of glee rustling feathers both during the show and on social media.
His now private Instagram got him into more hot water after he posted a "public apology" for commenting on tribe-mate Paige's rear during an episode a few weeks ago.
"I just want to say, it was all taken completely out of context," he wrote, "I would never say something like that to Paige because she's like a six, and I would only say stuff like that to eights and above."
But if you were expecting an apology, you weren't watching the "Alpha Wolf" close enough.
"I love reading through the comments," he laughed, "watching people unravel online is highly amusing, but also I get a lot of support."
"[Fans] love me trolling people and having a laugh, a lot of people get my sense of humour," he said.
He also believes, had he been part of the Champions, he might not have gotten such a reputation for putting his foot in it.
"It's difficult when you're working with a group that aren't used to operating in such a high performance environment. You assess where things went wrong and bring up the ideal people for the right challenges... people find it offensive, they don't want to hear the feedback."
Still, Zach wasn't too surprised to see the entire tribe for unanimously for his time on Survivor to come to an end, even his closest allies in the Bromance Alliance.
"No one was talking to me at camp, the feel around it -- I knew Tegan had it out for me, so when she came back I knew she'd want to start that up again," Zach told ten daily.
While he's keen to see mates Benji and Robbie to go all the way to take out the top prize, he isn't so sure they'll make it. Without him as muscle he worries the Champions will continue on their winning streak.
"Anything's possible but I'm the one that shuts down the bigger dudes," Zach said, adding that Heath and Robbie may be competitive but they might not have the chops to face off against the likes of the Commando.
In Zach's eyes, he sees the Contenders heading to a merge with low numbers, with the Champions picking them off one-by-one.
Whatever happens, the Alpha Wolf ain't sorry.