Hide Your Cats, An ALF Reboot Is In The Works
Y'all know re-runs exist, right?
Roll up, roll up, spin the marvellous wheel of reboots! And today... network executives are looking to reboot...........................
ALF.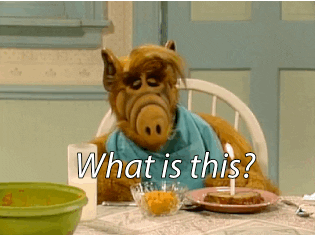 Sometimes writing these stories is like a dystopian nightmare, like a Black Mirror episode where the big technophobic twist is that *we're* actually the reboots or something fake-deep like that.
Anyway according to Variety, the cat-eating alien life form (aka ALF) is the latest in a long string of reboots with Warner Bros. Television in the early development stages.
ALF, who originates from the planet Melmac, crash landed in the suburban garage of the tanner family, a middle-class American family. Variety speculated that a potential reboot could see ALF emerging from Area-51, finally released from captivity after all these years, having to adjust to how much his adoptive planet has changed.
While we may be physically and mentally exhausted by the idea of another reboot, here's the thing... while you might remember ALF as that sarcastic puppet, all we can remember is how heart-rippingly depressing the end of the series was.
The show ran for four seasons, and initially was supposed to be renewed for a fifth, but NBC withdrew the deal meaning the series four cliffhanger became the show's end.
Season 4 saw ALF contacted by two surviving Melmacians, Skip and Rhonda, who inform him they've bought a new planet (New Melmac) and invite him to join them. He has his emotional goodbyes with the Tanners and they drive him to the desert to be picked up by his friends in their spaceship.
Just as he's about to be taken to his new home... the Alien Task Force show up, surrounding him and drag him off to be experimented with.
THAT'S HOW THE SHOW ENDED YOU GUYS WE ARE NOT MAKING THIS UP.
The series finished with a "To Be Continued" tagline, but the show never came back. Instead, in 1996, six years after the devastating end, a made-for-TV movie Project ALF was released in order to tie up loose ends / maybe deal with the devastating image of ALF being experimented on by some task force.
But with a majority of the original cast not returning (and it being terrible) most people don't consider Project ALF to be canon, so they just remember the series ending with our poor, lovable hero being a victim of man's cruel desire to cut everything in half.
ALF is the latest in just an exhausting series of reboots. Earlier we reported that Kelsey Grammer is attempting to get a Frasier reboot in the works, as well as that Buffy the Vampire Slayer reboot that was recently announced.
Y'all know we can just watch re-runs right?
Featured image: Warner Bros. Television Distribution.