All Aussie Adventures: Up Close And Personal With Russell Coight
The man, the myth, the legend.
It's been over 15 years since old mate Russell Coight blessed our screens with his fair dinkum funnies, but come this weekend we'll be seeing our fave Aussie icon a lot more with the brand new season of All Aussie Adventures set to kick off.
We had a bit of a chin-wag with Russ, who's been flat out like a lizard drinking in preparation for the season premiere this Sunday, August 5 at 7.30pm on TEN and tenplay.
Don't forget to check out ten daily's All Aussie Adventures Spotify playlist that's chockas with all the true blue tracks to get you keen as mustard on the new series.
Russ, mate! It's been awhile! What have you been up to for the past 16 years?
Well my wildlife park Coight World keeps me pretty busy, especially now that the RSPCA have lifted their ban. Although our crocodile petting zoo is not going quite so well - we're having a few teething problems.
I've also been pitching new ideas for other series. You've heard of 'slow TV'? I strapped a camera to the bull bar of my 4WD and crossed the Nullarbor -- 17 hours and 123 separate road-kills captured in full high definition! Still waiting to hear back from SBS.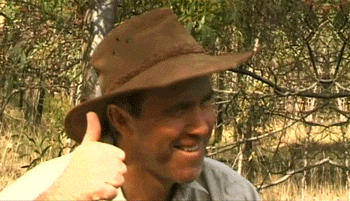 What nuggets of wisdom can you give us this time around?
When heading into the outback, always remember to take plenty of water. Unless it's the wet season - in which case take an umbrella.

Being someone who's on the road a lot, what are your best road trip tips?
When travelling over soft sand or mud, let some air out of your tyres. If you break down, stay with the vehicle. (Unless the vehicle is on fire - then run like hell). Avoid driving through flooded rivers or school zones between 2.30 and 4.00pm.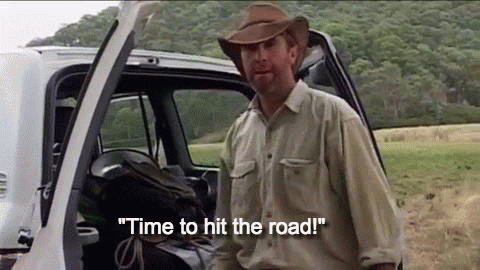 What are your favourite tunes for a long drive?
On a long trip, I like pressing 'shuffle' on one of my early CDs. You then never know whether you're going to get a classic like "I've Been Hurt in the Red Dirt" (which charted briefly on the Rockhampton Hot 100) or a power ballad such as "There's Room in this Swag For Two" (very popular at bush weddings).
If you could give the Survivor contestants any tips for surviving in the wild, what would they be?
No matter what happens, stay hydrated. In an emergency situation, you may even have to drink urine. Preferably your own.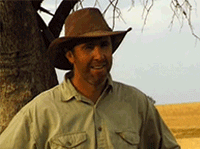 If you could take any person -- living or dead -- on a bush adventure, who would it be?
My father, Russell Coight Senior. He taught me everything I know about survival in the bush. I'll never forget his final words. "Don't worry son, the safety catch is on…"
What's one thing you should NEVER do out in the bush?
Swim naked. Animals see a certain part of my anatomy, think it's a predator - and attack. I could show you the scars.
Do the pressures of fame ever get too much for you?
It can be tough at times. People are always coming up and wanting an autograph or to take a selfie or to deliver another summons from the Department of Wildlife (you set fire to one marsupial…).
With reality stars venturing into politics, is there any chance we could see you ever running for PM?
I did briefly consider helping to form the Shooters, Fishers, Hunters, Hikers, Boaties, Campers, Four Wheel Drivers Party -- but we couldn't fit our name on the ballot paper.
All Aussie Adventures Premieres Sunday, 5 August At 7.30pm on TEN and tenplay.