Andrew Lincoln Revealed The Reason He's Leaving The Walking Dead
"It was very satisfying, the last two episodes in particular."
Walking Dead fans were shocked when it was announced Andrew Lincoln, the series' anchor, would be leaving the series by the end of Season 9. Lincoln himself even confirmed the news during a San Diego Comic Con panel.
Speaking to EW Radio, Lincoln revealed his reasoning behind his depressing departure.
"Let me clarify something" the 44-year-old said, "Yes, it's my last season on the TV show, The Walking Dead".
As to WHY he's leaving, the series shoots for over half a year in Georgia, which means Lincoln spends most of his time away from his wife and kids who live in the UK.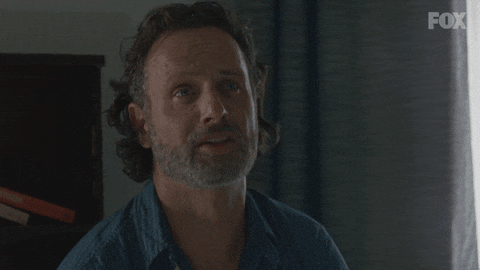 "I have two young children, and I live in a different country, and they become less portable as they get older," Lincoln explained, "It was that simple. It was time for me to come home".
Lincoln has already shot his final episodes, saying finishing his time on the show was "like releasing air finally".
Despite sounding quietly chuffed that, after nine seasons, he's wrapping up his time as Rick Grimes, Lincoln did say having to announce it at Hall H during Comic Con got a bit real.
"It was very satisfying, the last two episodes in particular. But doing a panel and having to talk to [thousands of] people in Hall H and then have all my friends hug me at the end? The shit got real, is the truth of the matter."
Rick isn't the only character to be departing the series in Season 9, with Lauren Cohan also revealing her character Maggie would be checking out of the show mid-way through the season, ominously telling People magazine "I'm in the first six episodes of the show, and then a lot happens in the sixth episode".
Despite making it sound suuuuper unfortunate for Maggie and Rick, Cohan also told Andy Cohen Live "My Walking Dead story is open, it's not finished".
Interestinggggg.
The Walking Dead's ninth season premieres in October.
Featured image: AMC.