6 Highlights From The 2018 MTV Movie & TV Awards
Here's everything you might have missed from the show!
The 2018 MTV Movie and TV awards kicked off on Tuesday and it was a celebration of the year's best. Black Panther came out on top, after scoring seven nominations and taking home four awards including Best Movie and Best Performance in a Movie.
While Superhero flicks definitely were the big winners of the night, there were some incredible moments throughout the show which highlighted just what an incredible year it's been so far.
From the inspirational to the downright wacky, here are six of the big moments from the show you'll want to catch up on.
Chadwick Boseman gave his Best hero award to James Shaw Jr.
Black Panther was a definite winner throughout the awards, taking home four awards including one the star, Chadwick Boseman, as Best hero.
Accepting his award Boseman decided to honour James Shaw Jr, a young man who fought off a gunman in February.
This tweet is unavailable or no longer exists.
"Receiving an award for playing a superhero is amazing," Boseman said, "But it's even greater to acknowledge the heroes that we have in real life". The actor then invited Shaw Jr onstage and handed him his award.
Michael B Jordan Made the best joke while accepting his best villain award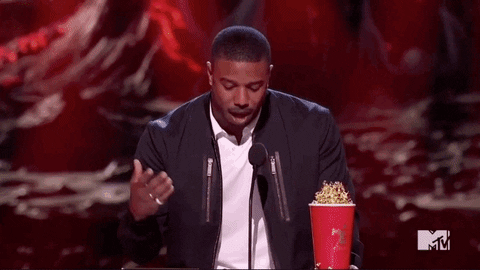 Soon after Chadwick won for best hero his Black Panther co-star and foe Michael B Jordan won the Best Villain award for Killmonger.
While Boseman took the opportunity to honour a real-life hero, Jordan went in a slightly different direction saying, "I'm shocked that I won this award for Best Villain".
"I thought Roseanne Barr had that in the bag."
Jordan was referencing Roseanne Barr's public fall from grace after she tweeted a racial slur that saw her show pulled from networks across the globe. An award-worthy drag TBH.
Keiynan Lonsdale Accepted the Best Kiss award
Accepting the award for Best Kiss, Aussie actor Keiynan Lonsdale for his pash with co-star Nick Robinson in Love, Simon. The win marks the second year in a row after last year's win for Moonlight.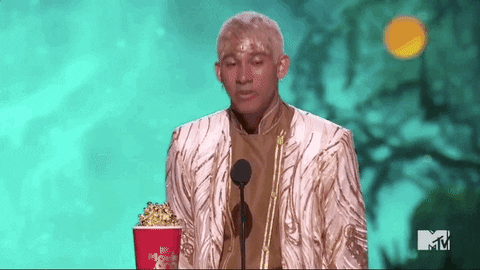 "I just want to say to every kid: If you can live your dream and wear dresses you can live your dreams and kiss the one that you love no matter what gender they are," Keiynan said accepting the award.
"You can live your dreams and you can believe in magic, you can live your dreams and you can be yourself."
Lena Waithe Received the Trailblazer Award and paid tribute to some true icons
Star of Master of None Lena Waithe received the Trailblazer Award where she gave thanks to those that blazed the trails before her.
The actor, screenwriter and producer said accepting the award, "The only reason why I'm even allowed to stand here is because of a few other trailblazers that some of you might not be aware of".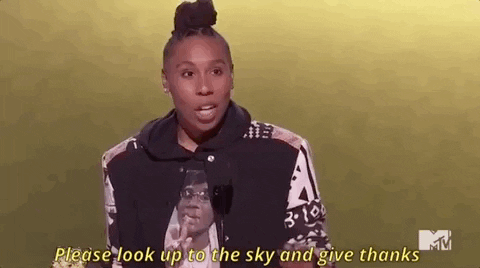 Referencing the 1990 documentary Paris is Burning which tracked New York's ball culture. "It documents the lives of some of the bravest human beings to ever walk the face of this Earth," she said.
"Every time someone says 'shade' or talks about 'reading' or just decides to serve face for no reason at all, please look up to the sky and give thanks, because we owe them a huge debt of gratitude."
"They strutted through a brick wall so we wouldn't have to."
Chris Pratt gave us nine life lessons
After Lena won the Trailblazer Award, Chris Pratt was up next for the Generation Award. Celebrating the incredible range of Chris' most iconic characters -- from the bumbling Andy on Parks and Rec to the bumbling Starlord in Guardians of the Galaxy -- Chris decided to impart nine life lessons.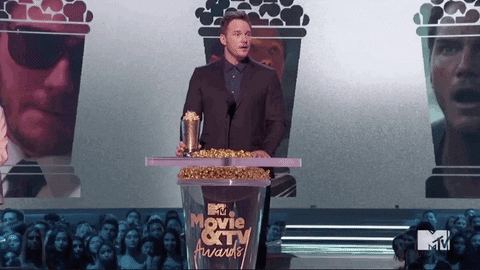 Here's the basics of each lesson (seriously these were his lessons):
Breathe (if you don't you'll suffocate)
You have a soul, be careful with it
Don't be a turd
When giving a dog medicine, put the medicine in a little piece of hamburger, they won't even know they're eating medicine
Doesn't matter what it is, earn it
God is real, God loves you, God wants the best for you -- believe that
If you have to poop at a party but you're embarrassed because you're going to stink up the bathroom get all the pee out first then poop then flush really quick so you don't pee on all the poop and stir up poop particles
Learn to pray
Nobody is perfect
Millie Bobby Brown stood up to Bullies
Finally, Millie Bobby Brown accepted the award for Best Performance in a show. The young actress couldn't be at the ceremony to accept the award as she was at home after splitting her kneecap (OW AND GROSS!).
In a filmed speech she went through all the usual thanks before issuing a final statement.
"Since I know there are many young people watching," the 14-year-old said, "they could probably use the reminder that I was taught: if you don't have anything nice to say, just don't say it".
This tweet is unavailable or no longer exists.
Millie recently deleted her Twitter account after being used in a homophobic meme.
"There should be no space in this world for bullying," she continued, "and I'm not going to tolerate it and neither should any of you. If you need a reminder of how worthy you are and to rise above the hate -- message me on Instagram."
So there you go, you're all caught up with the 2018 MTV Movie & TV awards. Now go poop at a party without fear of embarrassment.
Featured image: Getty.