Emma Roberts Has Just Teased Her AHS Season 8 Appearance And We Are Not Ready
Surprise, b*tch.
Update: Emma Roberts has posted to her Instagram story in her Madison Mongtomery get-up, quoting everybody's favourite line which looks to confirm she'll be back for the eighth season of the series.
This tweet is unavailable or no longer exists.
Bet you thought you saw the last of the Supreme and American Horror Story's Coven of witches? Well good news.
Ryan Murphy uncharacteristically revealed the theme of the upcoming eighth season of American Horror Story on Twitter on Friday, confirming what we had long hoped: the crossover between Coven and Murder House.
This tweet is unavailable or no longer exists.
In recent years Murphy has teased out the theme of AHS, most famously not even telling fans what season six, Roanoke, was going to be until the season went to air. Similarly with season six, Cult, Murphy simply teased out images "relating" to the theme leaving fans to wonder.
Luckily for us we now know the eighth season of the anthology series will be a mash-up between the first season, Murder House, and the third, Coven.
So far all we know about season eight is that series regulars Sarah Paulson, Kathy Bates and Evan Peters are set to return, joined by newcomer and legend Joan Collins. Murphy has also confirmed the season will be set in the "near distant future".
The other specifics -- aka how a haunted mansion in Los Angeles and the witches of New Orleans will fuse together into the one season -- will probably be slowly leaked out, as well as more cast announcements in the coming weeks.
One thing's for certain, we better get an iconic return of Emma Roberts' maniacal Madison Mongtomery.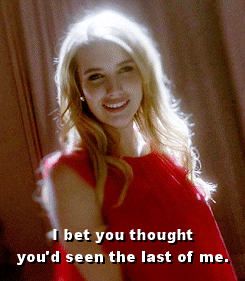 Murphy is one of the busiest men in Hollywood, having created tons of series running simultaneously like AHS, 9-1-1, Pose and American Crime Story. Murphy also recently signed a massive deal with Netflix rumoured to be worth $300 million.
Featured image: FX.