John Lennon's Iconic Glasses Just Sold For An Absolute Fortune
The frames that have been dubbed "the most iconic glasses in rock and roll history" have sold at auction and you'd never imagine they'd sell for this much.
A pair of John Lennon's signature moon-shaped sunnies went under the digital hammer on the Sotheby's website and fetched a lot more than the auction house's estimates of between £6000 - £8000 (about $AU11,700 - $15,600).
The goldtone wire-framed glasses with green-tinted lenses sold for a whopping £137,500 ($AU267,771) to an unnamed bidder who really could have done with a trip to Specsavers.
If you're wondering how the glasses ended up being sold for such a ridiculous amount, and aren't in the possession of the Beatle's wife Yoko Ono, or his sons Sean or Julian, you can blame Ringo Starr.
According to Sotheby's, Lennon was given the groovy Oliver Goldsmith specs for his role in Richard Lester's black comedy film 'How I Won The War'.
It's understood Lennon then left the frames in the backseat of Starr's Mercedes in 1968 -- and never got them back.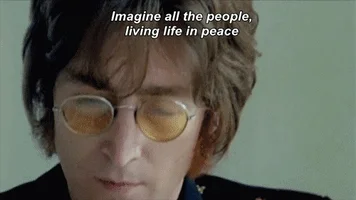 Starr's chauffeur -- Alan Herring -- did spot the sunnies and asked Lennon if he would like them fixed, after noticing one of the lenses and one of the arms had become disconnected.
"He told me not to worry they were just for the look!" Herring told Sotheby's.
"He said he'd send out for some that fit. I never did get them mended I just kept them as they were as John had left them."
Herring sold the glasses along with a few other pieces of Beatles memorabilia he held on to from back in the day, including George Harrison's cowbell necklace, which sold for a mere £10,000 ($19,460 AUD).
Bargain!
Main Image: Getty.