Mel B Is Back At It Again With The Spicy Lies
This time, she reckons that Posh Spice is keen on reuniting with The Spice Girls next year.
Mel B has apparently said that that former bandmate Victoria Beckham, aka Posh Spice, will be joining the Spice Girls for a milestone performance next year.
Speaking on UK TV's 'The Lateish Show with Mo Gilligan', Scary Spice said: "Funnily enough, my mum was at her mum's summer party and Victoria was there, and she did actually mention to my mum that she'd love to do Glastonbury for their 50th next year".
"It's not just me saying it, she actually did say that to my mum," she added.
Look, usually we'd be jumping for joy at the prospect of an OG reunion, but given Mel B's track record of straight-up lying, we're taking this latest revelation with a giant grain of salt.
READ MORE: Adele Went To The Spice Girls Concert And Lost Her Sh**
It's not just us who think the outspoken Spice Girl is privy to telling the odd white lie -- even her own mum has publicly called out for lying about where she grew up.
Back in 2014 when the singer co-hosted 'The X Factor', she bonded with contestant Kaleigh Manners after telling her that she, too, grew up in Harehills -- an impoverished area of Leeds.
Hopeful over a world-famous talent growing up in her home town, Kayleigh replied: "The place I grew up from gets quite a bad name. But Mel B was brought up in the same area so it makes you realise people from that place can still make it and get somewhere."
It wasn't long before Mel's mum Andrea accused her daughter of lying about her upbringing. Speaking to the Mirror, she said: "Melanie was brought up in Harehills? Well, that's news to us. It's always been Kirkstall, the other side of town."
Her sister Danielle added: "That's what happens when you forget your roots. I might start saying I grew up in Buckingham Palace."
READ MORE: Adele Is More Excited Than Anyone Else About The Spice Girls Reunion
As well as this, bandmate Geri Horner blasted Mel for reportedly lying about the pair sleeping together during their early days in The Spice Girls, branding the allegations as "disappointing rumours".
Speaking to Piers Morgan and Susanna Reid following Geri's denial, Mel said: "We're friends at the end of the day. Listen, she's used to dealing with me. So I'm going to say whatever I'm going to say within reason, respectfully.
"I'm going to tell the truth so she just has to swallow that pill. I'm not apologising." Mel added: "I'm not a liar. And it's old news, this happened such a long time ago."
Upon the story breaking out prior to the UK tour earlier this year, a representative said on behalf of Geri:
"It has been very disappointing to read about all these rumours again, especially on Mother's Day of all days. Geri is really grateful for your support and loyalty for so many years.
"She loves the Spice Girls: Emma, Melanie, Melanie and Victoria. She would like [the fans] to know that what has been reported recently is simply not true and has been very hurtful to her family."
They added, "Moving forward, Geri can't wait to see the girls and all the fans on the tour, have an amazing time with everyone, and make some new memories."
THEN, just last month, the 44-year-old was forced to backtrack after announcing at the end of the group's final show at London's Wembley Stadium that The Spice Girls would be heading Down Under in February next year.
READ MORE: The Spice Girls Are Coming To Australia In 2020
Sending the whole country into meltdown over the shock announcement, she later admitted on 2Day FM's Grant, Ed and Ash this morning that the tour wasn't locked in.
"You know me by now," she said. "I always say the Spice Girls are going to continue and continue and tour the whole world."
"My thing is, and I've got a bee in my bonnet about it, is that we need to come to Australia first out the gate. I announced it on stage, yes, without everybody else signing off 100 per cent, but I figured if I put it out there maybe it's going to happen."
So there you have it. Can you blame us for being sceptical about her latest revelation?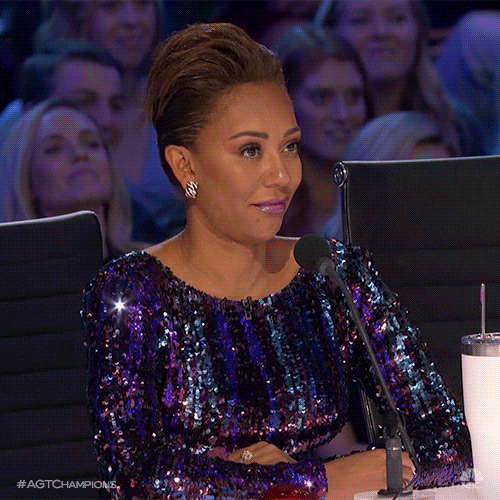 Image: Getty