Woman Gives Birth At Pink Concert, Names Baby After Her
Congrats to the new mum and the world's youngest Pink fan!
There's no question that Pink has some diehard fans -- but UK woman Denise Jones just proved how dedicated to the star she really is after she gave birth at the "Beautiful Trauma" singer's concert at Liverpool FC's Anfield stadium on Tuesday -- and named her bub after her!
In probably the most fitting song to kick off labour, Pink was performing her first song of the evening, "Get The Party Started" when mum Jones, 32, went into labour as paramedics John Matthews and Dani Berg rushed through the crowd to get to the mum-to-be.
READ MORE: Pink Won't Be Posting About Her Kids On Social Media Anymore
"When we reached her, it was quite clear the patient was heavily pregnant and showing signs of being in labour," Matthews told Liverpool Echo.
They moved her to the first aid room under the stands once they realised there would be no time to get Jones to a hospital, because the baby was coming out so they better get this party started (sorry).
"It took less than five minutes. We didn't have time to get concerned or worried, we just had to crack on and get on with it," he added.
Jones later revealed in hospital that while she was "gutted" to miss the rest of the star's show, she "couldn't be happier". She even gave the baby girl a fitting moniker to mark the incredible event, naming her newborn 'Dolly Pink'.
EAD MORE: Pink's Husband Carey Hart Threatens To Shoot Fire Looters
This tweet is unavailable or no longer exists.
Jones' niece Chloe Dryhurst posted some sweet snaps to Twitter of a happy looking mum and baby, tweeting, "Baby Dolly Pink Born at Anfield Whilst watching Pink concert! Mum and Baby are doing Amazing, thank you to the amazing paramedics that delivered her!"
Paramedic Berg also gave social media users an update over Twitter, saying, "Mum did all the hard work, we just had to catch."
This tweet is unavailable or no longer exists.
And to that, we say raise your glass to the new mum!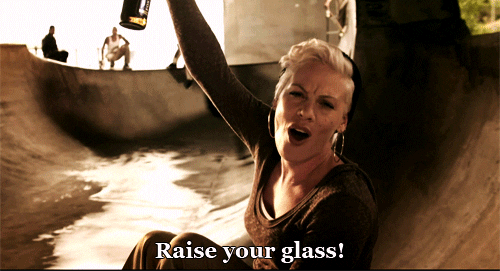 Image: Getty/Twitter