What Is 'Shade' And How To Use it Correctly
In her latest single Taylor Swift tells homophobes to "take several seats".
To celebrate Pride month, Taylor Swift released pro-LGBTQ+ anthem "You Need To Calm Down". The song apparently takes on homophobic bullying, cyberbullying and name-drops LGBTQ+ organisation GLAAD (or she's referencing the Glad Wrap commercials like this one starring Jerry Stiller).
The song has received middling reviews with many fans praising Swift for throwing her support behind the queer community but others are less keen to celebrate considering the song is -- like her debut single "ME!" -- somewhat pedestrian.
The song is just one of many ways Swift has put weight behind Pride Month, making a hefty donation to GLAAD at the beginning of the month as well as writing an open letter to Tennessee Senator Lamar Alexander, urging him to support the Equality Act. This weekend Swift appeared at the Stonewall Inn to celebrate the 50th anniversary of the Stonewall riots.
This is not to diminish any of Swift's amazing work for the queer community, but one lyric in "You Need To Calm Down" has received a lot of attention -- mostly for all the wrong reasons.
In the song, Swift sings, "You just need to take several seats and then try to restore the peace and control your urges to scream about all the people you hate 'cause shade never made anybody less gay".
That is a fundamental misunderstanding of shade.
READ MORE: Tay Tay Made Surprise Appearance At Stonewall Inn With Modern Family Star
Reading is fundamental
While the term has been around for a very long time, the idea of "shade" was best defined by drag queen Dorian Corey in the seminal documentary 'Paris is Burning'.
"Shade comes from reading," Corey said in the 1990 doco, "reading came first. Reading is the real art form of insults."
Reading is a form of savage insult that takes a look at your opponent, finds an insecurity and exploits it. It's a direct insult. For many queer people -- especially trans or queer people of colour -- reading was a fundamental defence mechanism, one that is honed through years of being an outsider.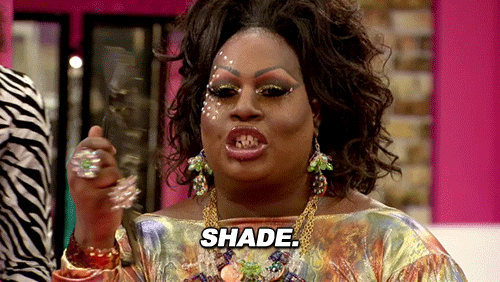 "If it's happening between the gay world and the straight world, it's not really a read, it's more of an insult, a vicious slur fight," Corey continued.
"When you are all of the same thing, then you have to go to the fine point. In other words: If I'm a black queen and you're a black queen we can't call each other black queens cause we're both black queens. That's not a read, that's just a fact."
READ MORE: Taylor Swift Kicked Off Pride Month With A Passionate Speech
READ MORE: Taylor Swift Just Announced The Release Date For Her New Album 'Lover'
"you know you're ugly."
Reading in its purest form is an insult, e.g. "Taylor Swift's gay anthem was so bad it turned me straight."
Shade takes the idea of insult and evolves it into a subtle art where the insult is never said, simply inferred. This can be verbal or physical.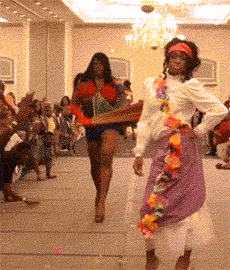 Corey again explains it best. "Shade is: I don't tell you you're ugly, but I don't have to tell you because you know you're ugly."
The term gained traction through 'RuPaul's Drag Race' where being shady became a marker of how far a queen would go. The revered reading challenge was a huge test of which queen had the chops to tear her co-competitors to shreds.
The term then filtered its way into 'Real Housewives', 'Love and Hip Hop' and, eventually, Taylor Swift's 2019 single that begs homophobes to "Calm Down".
For Swift, anti-LGBTQ+ rhetoric, insults and bullying are "shade". Her message is: no matter how loud your bullying is, it won't change someone's sexuality.
The idea that being bullied, shamed or chastised for being part of the LGBTQ+ community has never diminished anyone misses the mark.
Anti-LGBTQ+ rhetoric is partly why people spend most of their lives struggling to come out of the closet, and why rates of suicide are so high among young LGBTQ+ folk.
Shade in its actual form may have never made anybody less gay, but what is Swift actually trying to say here?
It's an unfortunate fumble where -- in an attempt to step up as an ally with an awareness of queer culture and history -- Swift bungles the finish by misappropriating terms rooted in communities she does not necessarily understand.
Swift has taken "shade", born in the underground balls where especially trans people of colour carved out their own communities and chosen families -- rejected by the mainstream -- turning it into a pastel fantasy that will undoubtedly turn up on equally technicoloured merch.
The misuse of "shade" isn't just a symptom of Swift's lyric. Since the huge boost of popularity 'Drag Race' has seen in recent years, more and more queer phrases, references and terms are popping up in mainstream culture. It's an odd clash where terms that were created out of a need to challenge and escape predominantly white, cis and straight culture are now being mass-produced for those exact audiences.
In an attempt to stand up for the queer community, Swift commodified it -- and incorrectly.
Again, this is not to minimise Swift's status as an LGBTQ+ ally. The work she has been doing, the work she continues to do, is important and so generous. Having one of the world's biggest artists stand up for her queer fans is a massive thing to celebrate. It's just a shame that this single attempts to do so much but never manages to stick the landing.
So, congrats on her little song.
Paris is Burning is available to watch on Netflix in Australia.
Featured image: Getty Images.