A Timeline Of The Grammy Awards' Most Iconic Moments
Join us on a stroll down memory lane as we reflect upon the weird, wild and downright batsh*t moments that have taken place at the Grammys over the years.
It's almost time for music's night of nights -- the 61st Annual Grammy Awards!
Set to airing on February 11, we're already excited for all the kooky costumes (à la Lady Gaga's egg-cellent red carpet arrival in 2011), major shade throwing (like Taylor Swift did to Kanye West during her 2016 acceptance speech), as well as some iconic performances (who could forget Kesha's emotional rendition of "Prayers" last year?).
So while we count down the days to see who'll nab this year's top awards in music, check out some of the wildest moments that have happened throughout Grammy history.
Milli Vanilli Fakes Everyone Out (1990)
Lip sync fails are a dime a dozen these days (Ashley Simpson anyone?) but back in 1990, after pop duo Milli Vanilli won the award for Best New Artist, a major scandal unravelled after the public discovered that Fabrice Morvan and Rob Pilatus didn't actually sing, but rather lip-synched another artist's vocals throughout performances.
Just days after the news dropped, the pair were stripped of their Grammy.
ODB Chucks A Kanye West Before Kanye West (1998)
We all remember Kanye West interrupting Taylor Swift's acceptance speech at the 2009 MTV Video Music Awards, but before Yeezy, there was Wu-Tang Clan's Ol' Dirty Bastard.
ODB stormed the stage during the '98 Grammys after Shawn Colvin won Song of the Year, yelling into the mic, "I went and bought me an outfit today that costed a lot of money today 'cause I figured that Wu-Tang was gonna win."
"I don't know how you all see it, but when it comes to the children, Wu-Tang is for the children, we teach the children. Puffy is good, but Wu-Tang is the best. This is ODB, and I love you all. Peace!" he continued.
You know what they say, Wu-Tang Clan ain't nothin' to f**k with.
Jennifer Lopez's Dress (2000)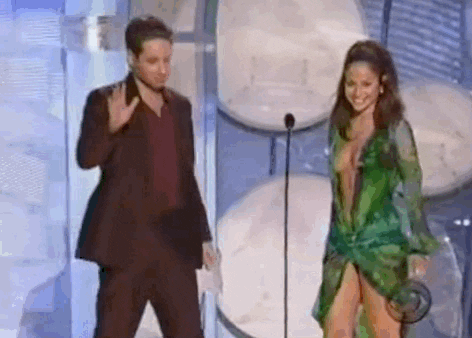 In what soon became one of the most iconic dresses of all time, mega-babe J.Lo had every head turning at the 2000 Grammys as she sashayed down the red carpet in a sheer, plunging Versace dress that left little to the imagination -- and totally slayed.
Since then, we have seen a whole lot of outrageous, skin-baring dresses, but none have even come close to being as memorable as Jenny from the Block's.
Eminem Performs With Elton John (2001)
After Eminem faced major backlash for what many believed to be homophobic lyrics on his album The Marshall Mathers LP, the rapper shocked everyone when he hit the stage with Elton John to perform "Stan".
The unlikely pair is still close to this day, with Em revealing that the star helped him through addiction issues. The "Rocket Man" singer also spoke highly of the controversial MC on an appearance on The Graham Norton Show, saying about his pal, "We became friends. We've been amazing friends ever since. He's an amazing guy … I just adore him."
A Very Pregnant M.I.A Performs On Her Due Date (2009)
Hot mama! Singer M.I.A wowed audiences during her '09 performance of "Swagga Like Us" not only because of her epic show alongside Kanye West, Jay Z, Lil Wayne and T.I., but because she performed on the actual due date of her baby! Luckily, she didn't give birth onstage -- but her son did arrive just three days later.
Lady Gaga Arrives In An Egg (2011)
Back when Gaga was known for being a lot more ~kooky and extra~ she went on to kick things up to a whole new level as she hit the red carpet for the 2011 Grammy's in a giant egg in which she "hatched" from on stage.
The wildest part? She later revealed that she spent 72 hours inside the temperature-controlled contraption, in what she dubbed a "creative embryonic incubation."
Pharrell's Hat (2014)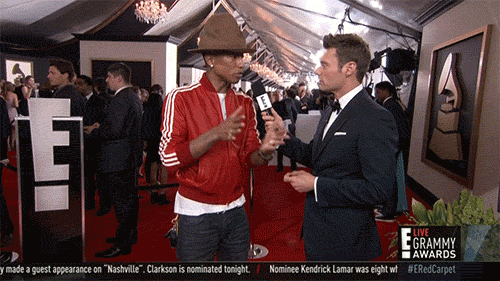 In what was a major WTF fashion moment, Pharrell rocked up to the 2014 award show in an obscenely big hat, which -- of course -- went on to become a viral sensation, spawning countless hilarious memes and even landing its own Twitter account!
Taylor Swift Throws Major Shade At Kanye West (2016)
After winning Album of the Year for 1989, Taylor finally got her revenge on 'Ye after the whole MTV Music Awards interruption as well as the entire sh*tstorm over him including her name in his song "Famous."
Taking the stage to accept the award, the singer took a thinly-veiled swipe at her on-and-off nemesis, saying, "I want to say to all the young women out there -- there are going to be people along the way who are going to try to undercut your success or take credit for your accomplishments or your fame."
"But if you just focus on the work, and you don't let those people sidetrack you, someday when you get where you're going, you'll look around and you will know that it was you and the people who love you who put you there. And that will be the greatest feeling in the world," she declared.
Adele Stuffs Up (Then Saves) Her George Michael Tribute (2017)
Poor Adele. It would be nerve-wracking AF to not only perform a tribute to one of music's greatest icons but to perform it in a space in which the entire world is watching you.
As the vocal powerhouse kicked off her homage to the late star, she suddenly swore, stopped the music, and started over -- but once she got her groove back, she totally killed it.
Kesha's Emotional Performance Of 'Praying' (2018)
Following an exhaustive legal battle against former producer Lukasz "Dr. Luke" Gottwald in which she alleged that he had sexually, verbally and emotionally abused her, Kesha was joined on stage by Camila Cabello, Cyndi Lauper, Julia Michaels, Bebe Rexha and Andra Day for her comeback song 'Praying'.
A huge contrast to her formerly ostentatious, glittery 'party girl' persona, the singer instead looked far more demure, the performance ended with Kesha crying and hugging her fellow vocalists.
Image: Getty