Spotify Now Lets You Block Or Mute Artists You Don't Wanna Hear
Laters, R. Kelly!
Much like when that overly-opinionated relative won't stop making weird political statements on Facebook, now Spotify has introduced the option of muting artists you don't want to listen to.
The feature is able to be turned on and off, and once an artist is blocked you'll no longer hear any of their tracks -- even if they're in playlists you follow.
So that band you now hate 'coz it reminds you of your ex, but can't stop hearing 'coz it's in every playlist?
Goneskies! Laters! Au revoir!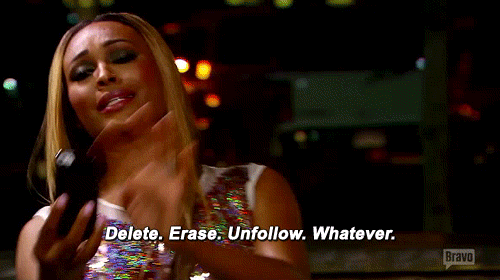 READ MORE: R Kelly Responds To Sexual Abuse Allegations With 19-Minute Song
The feature is currently available to some users following the latest Spotify update, but if you haven't got the feature on your iOS yet, DW -- it's coming! They've also yet to bring the feature to its desktop version.
To access the feature, you just need to hit up an artist's profile page and click the 'more' button up top in the right-hand corner. You should then see 'Don't play this artist' appear in a list of commands -- click that, and done!
You'll never have to listen to Nickelback any music you dislike ever again!
Here's what it looks like:
READ MORE: Diversity In Music Festivals Is Improving, But We Still Have A Long Way To Go
The new feature comes following the #MuteRKelly social media campaign, which petitioned to remove his music from the platform after multiple women accused the star of sexual assault -- all of which Kelly has denied.
Spotify also came under fire last year following an update to their Hate Content & Hateful Conduct policy, which saw music by artists such as Kelly and XXXTentacion removed from the editorial and algorithmic playlists.
Spotify said in a statement at the time, "We don't censor content because of an artist's or creator's behaviour, but we want our editorial decisions – what we choose to program – to reflect our values."
Image: Getty