How A YouTuber Could Top The UK Christmas Charts
It's like a real-life 'Love Actually'.
You know how Bill Nighy's whole storyline involves him trying to hack the radio charts to become the Christmas Number 1 single?
This is a story like that... but better.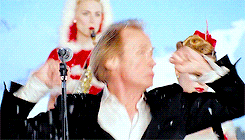 If you haven't heard of LadBaby... welcome to the club, but he's a well-known YouTuber otherwise known as Mark Hoyle.
Hoyle's channel often features his wife Roxanne and their two kids, focusing on his transition "from lad to dad".
And now... he's on his way to becoming a chart-topper.
READ MORE: Hundreds Of UK Pubs Are Banning Wham's 'Last Christmas' From Being Played This Year
READ MORE: Samantha Jade Sings 13 Christmas Songs In 60 Seconds
Hoyle, accompanied by his family, has released a holiday single riffing off the classic Mickey Thomas track "We Built This City". LadBaby's track is similarly titled, with a twist.
Feast your ears on "We Built This City... on Sausage Rolls".
Hoyle's plan is to release the song in support of the Trussell Trust, a charity that aims to end hunger and poverty in the UK.
He also wants to win number 1 for Mrs LadBaby, obviously.
This tweet is unavailable or no longer exists.
This wouldn't be the first time the YouTube family managed to take out the top prize in a competition, back in June Hoyle was nominated for and won the title of "Celebrity Dad of the Year" beating out Prince William and Liam Payne.
His Dad trophy proudly features in his video for "We Built This City".
Currently, Hoyle is up against some heavy-hitters including Ariana Grande's "thank u, next" as well as Ava Max's "Sweet But Psycho", but Hoyle's parody track -- only released on the 14th -- has already had just under 500,000 views on YouTube.
As for the charts, "We Built This City" is currently sitting in the Number 2 spot in the UK chart with just a few days to go.
This tweet is unavailable or no longer exists.
You could say Hoyle is... on a roll.
Featured image: