Cardi B Found Out About Grammy Noms While Leaving Court
Cardi B learned about her multiple Grammy award nominations in true style.
The "Money" singer rocked up to a courthouse in New York today for her arraignment over misdemeanour charges that she copped after a strip club brawl in Queens earlier this year, Variety reports.
Cardi B was supposed to be in court on Monday but skipped the appearance so she could shoot a music video dressed as an elegant tiger.
But the rescheduled court date meant that Cardi found out she was nominated for five Grammy awards in a truly iconic way -- as she left the courthouse looking like the Carmen Sandiego of the hip-hop world.
READ MORE: Grammys 2019: Here Are All The Nominees
READ MORE: Cardi B And Offset Split After One Year Of Marriage
A reporter yelled the exciting news to Cardi as she walked through a scrum of photographers, telling her she was up for multiple Grammys.
"I am?" the rapper replied, before dropping one of her many catchphrases.
"Oweee," she exclaimed.
This tweet is unavailable or no longer exists.
"What a way to find out I got 5 Grammys nominations…" the rapper wrote on her Instagram page.
"I'm telling you my life is a movie. I work my ass off for this! Win or not at least I know I had a chance and people was (sic) watching and admiring my work. I'm Soo happy! THANK YOU!" Cardi wrote.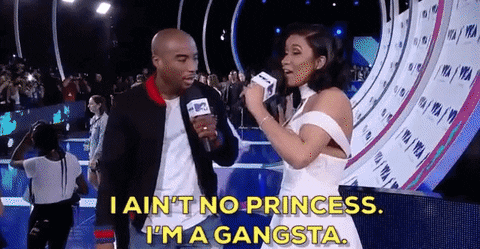 Cardi B is up for Grammys including Song Of The Year, Record Of The Year, and Album Of The Year.
And as for the arraignment -- Cardi was released without bail, with the judge saying he didn't believe she was a flight risk. She has been warned to stay away from the alleged victims of the strip club brawl, Baddie Gi and Jade, TMZ reports.
The rapper is due to appear in court against next month.
Main Image: Getty Images.