Every Celebrity Cameo From The 'Thank U, Next' Video
Ariana Grande recruited an all-star cast to create the most iconic music video of 2018.
The video has the entire internet absolutely reeling from Grande's recreation of four seminal rom-coms from the early 2000s -- Mean Girls, Bring It On, Suddenly 30 and Legally Blonde.
The clip stars a gorgeous collection of Grande's closest friends, acting icons, reality stars and a choice of props that will have you wishing it was still 2004.
Here's our handy guide to the most important cameos in "thank u, next".
Kris Jenner
She's not a regular mom, she's a cool mom. The Kardashian matriarch was the *perfect* choice to recreate Amy Poehler's Mean Girls character, Mrs George. And you just know she already had her own Juicy Couture tracksuit and late '90s camcorder ready for the shoot. You're doing amazing, sweetie!
This tweet is unavailable or no longer exists.
Jennifer Coolidge
Ari has made no secret of the fact that Coolidge is one of her heroes -- she even busted out her best impression of the Legally Blonde actress on The Tonight Show earlier this year.
So it made sense that Grande cast Coolidge in the iconic 'bend and snap' scene from the 2001 rom-com.
And if you look closely in this scene, you'll notice that the UPS delivery guy's shirt actually reads BDE! You can head over here to read our important BDE investigation and why this attention to embroidery has us absolutely shook.
This tweet is unavailable or no longer exists.
READ MORE: 'Thank U, Next' Video Stars 'Mean Girls' Aaron Samuels
Jonathan Bennett
Bennett played teenager Aaron Samuels in Mean Girls back in 2004 but somehow doesn't look like he's aged a day playing the same character in "thank u, next". We can confirm, his hair still looks sexy pushed back.
This tweet is unavailable or no longer exists.
Troye Sivan
Australian singer-songwriter Troye Sivan first collaborated with Grande earlier this year on his track, "Dance To This" and the pair have clearly become firm friends.
This tweet is unavailable or no longer exists.
Troye appears in the Mean Girls scene and shares some goss about Ari's Regina George character. "I hear she's a lesbian," he whispers, alluding to the misprinted lyric in "thank u, next" that had everyone thinking Ari had come out as bisexual.
READ MORE: Troye Sivan Reveals The Cheeky Meaning Behind 'Bloom'
We also get to see Ari flexing her inner bully -- pushing our poor little Troye into a locker as she leads her Plastics down the school hallway.
This tweet is unavailable or no longer exists.
READ MORE: No, Ariana Didn't Come Out As Bi On Her New Single
The 'Mean Girls' Burn Book
Another perfect homage to Mean Girls -- the Burn Book is a huge part of "thank u, next" and provides some delicious tidbits about a few of Ari's exes.
The page that features her most recent ex, Pete Davidson shows the comedian's face scribbled out below the words, "Sorry I dipped". A beautifully shady way to celebrate the end of their brief engagement.
Also the word 'HUUUUUGE' is scrawled at the bottom of the page, which we all heard a little too much about when the pair was still dating.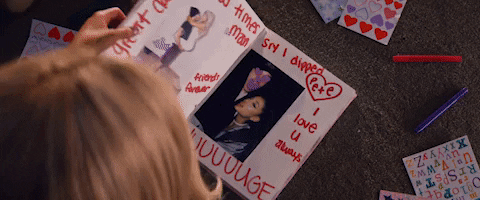 Grande's ex, Big Sean also got a shoutout in the scrapbook and might seriously be considering sending Ari a text or two!
"So cute, so sweet (can still get it)," the page reads.
This tweet is unavailable or no longer exists.
Colleen Ballinger
YouTube star Colleen Ballinger -- known for her character Miranda Sings -- features as a pregnant teen in the Mean Girls portion of the clip and again as a cheerleader during the Bring It On sequence.
Ballinger is seven months pregnant and nailing those high kicks!
This tweet is unavailable or no longer exists.
Elizabeth Gillies
Lindsay Lohan was presumably much too busy running her nightclub in Mykonos to play Cady Heron again. Either that or Ariana had a better idea -- casting her bestie and Victorious co-star Elizabeth Gillies.
READ MORE: Lindsay Lohan's MTV Reality Series Gets Its First Promo
Matt Bennett
Another Victorious co-star, Bennett helps Ariana recreate the iconic tooth brushing scene in Bring It On -- originally performed by Kirsten Dunst and Jesse Bradford in 2000.
This tweet is unavailable or no longer exists.
Daniella Monet
More proof that Ari had the most fun casting all her friends and idols for "thank u, next" is Daniella Monet, another Victorious actress.
READ MORE: Ariana Grande Drops 'Thank U, Next' Video, Breaks Internet
Scott Nicholson And Stefanie Drummond
Nicholson is one of Ariana's backup dancers and has also worked for Beyoncé, Mariah Carey and Nicki Minaj. He appears alongside Drummond aka the original 'flip flops and army pants' girl from Mean Girls -- who also weirdly looks the same age as she did in '04.

Gabi DeMartino
Another Mean Girls cameo -- this time from Grande's actual lookalike, Gabi DeMartino. The vlogger is known for her seriously flawless Ari impressions on YouTube and -- despite Ari lightly dragging her on Twitter this year -- it seems the pair are tight now.
Tayla Parx and Victoria Monet
Parx and Monet helped Grande co-write the No.1 single so of course, she had to cast the girls -- who are also her close mates -- in the "thank u, next" clip.
The Doll House From Suddenly 30
One of the most important cinematic cameos in the entire clip -- Jennifer Garner's dollhouse in Suddenly 30 (known in the US as 13 Going On 30).
This tweet is unavailable or no longer exists.
The scene even has Jennifer Garner's blessing -- the actress wrote on Instagram that Ari "looks more like [character] Jenna Rink than I ever did".
Ariana's Legally Blonde Study Corner
If you look carefully, Ari is brushing up on one of the most important issues facing the global community -- immigration and refugee law and policy!
This tweet is unavailable or no longer exists.
Apple's Tangerine Clamshell iBook Laptop!
And finally, the most iconic laptop to ever exist, the clamshell iBook that Elle Woods uses in Legally Blonde to ace those legal exams.
We're just going to quietly check eBay and see if the retro computers are still available so we can watch "thank u, next" in true style.
This tweet is unavailable or no longer exists.
Main Image: YouTube.