The Bob Dylan Biopic Is Going To Star The Perfect Actor For The Job
Don't think twice, it's alright -- because Timothée Chalamet is stepping up to play Bob Dylan in the new biopic, 'Going Electric'.
The news was first announced by Deadline, who reported that Chalamet will be working with director James Mangold ('Ford vs. Ferrari') on the film that will focus on the controversial moment that the folk singer swapped his acoustic guitar for a Stratocaster.
Chalamet garnered solid praise for his performances in 2019, starring in successful films including 'The King' opposite Joel Edgerton, and in 'Little Women' with Saorise Ronan.
Dylan himself is involved in the project, and no doubt gave his blessing for the 24-year-old lookalike to tell the 'Going Electric' story.
You might remember that it was director Mangold who brought us the Johnny Cash biopic, 'Walk The Line' starring Joaquin Phoenix and Reese Witherspoon.
The epic country music movie about Johnny and June scored several big awards including an Oscar, Golden Globe and BAFTA award for Witherspoon, so big things are expected from 'Going Electric'.
We know that Chalamet took guitar and piano lessons for his iconic role in 'Call Me By Your Name' but he's reportedly brushing up on his acoustic and electric skills to play the '60s musical prodigy.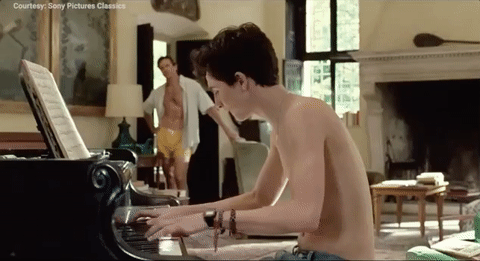 Deadline reported that it's unclear whether Chalamet will actually sing but he's proven he's got a very sweet set of pipes before, singing "Everything Happens To Me" in 'A Rainy Day In New York', and a road trip rendition of America's "Sister Golden Hair" in 'Miss Stevens'.
But the actor really proved his range in this video that teenage Chalamet made with his high school class to celebrate the good work of their statistics teacher -- a bop that will have you singing "Statistics, statistics" for the rest of the day.
Why this wasn't up for a Grammy, we'll never know but Chalamet is definitely poised for a powerful performance as Bobby D.
Main Images: Getty.