'American Pie' 20th Anniversary: Where Are The Cast Now?
It's been 20 years since we were first introduced to an incredibly NSFW use for pies.
Who would have thought that a flick about five friends trying to lose their virginity before prom could have snowballed into the cult classic that 'American Pie' quickly became?
So popular was the raunchy film that it spawned a lot of sequels, including 'American Pie 2' (2001), 'American Wedding' (2003) and 'American Reunion' (2012), as well as the direct-to-DVD spin-offs 'American Pie Presents: Band Camp', 'The Naked Mile', 'Beta House' and 'The Book of Love'.
The film also catapulted a slew of young stars into the spotlight, with some continuing to have illustrious careers in film and television, while others have faded from the limelight in order to focus on other projects.
In celebration of the 20th anniversary of the iconic comedy, we take a look at what the cast is up to these days.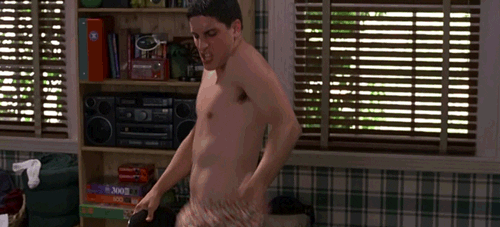 READ MORE: Is It Un-Australian To Have A Meat Pie Without Sauce?
READ MORE: Natasha Lyonne From 'Russian Doll' Is Our New Curly Haired Hero
Jason Biggs
Image: Getty
Playing the pie-friendly protagonist, Jim Levenstein in the original 'American Pie' and its subsequent sequels (though not the spinoffs), Biggs, now 41, went on to star in roles in 'Saving Silverman', 'Prozac Nation', and 'Anything Else', where he played a Jewish man, despite not actually being Jewish. Most recently, he starred as Larry in Netflix's 'Orange Is The New Black'. In 2008, he married his 'My Best Friend's Girl' co-star Jenny Mollen and they now have two kids and a very TMI relationship.
Chris Klein
After starring as Christopher Ostreicher in 'American Pie' and 'American Reunion', Kleon, 40, didn't appear in 'American Wedding' due to scheduling conflicts. Since then, he's had roles in Mel Gibson's Vietnam War film 'We Were Soldiers', as well as various teen flicks, with his most recent work being in the superhero television series 'The Flash'.
He famously dated Katie Holmes in 2000 and were engaged in 2003 before calling time on their relationship in 2005. He married his now-wife Laina Rose Thyfault in 2015, and they now have two children.
Mena Suvari
Image: Getty
Following her role as Heather, Mena Suvari, 40, famously starred in 'American Beauty', which won five Academy Awards, including Best Picture. She also starred in 2000's 'Loser' alongside her 'American Pie' co-star Biggs, as well as 'Factory Girl', and she's currently starring in the TV show 'American Woman'. She married three times, with her most recent nuptials being to Michael Hope in 2018.
Tara Reid
Image: Getty
Playing "hottest girl in school" Vicky Lathum, the now-42-year-old Tara Reid starred in flicks like 'Van Wilder: Party Liaison', 'Josie and the Pussycats', 'My Boss' Daughter' and 'Alone in the Dark' -- with the two latter films earning her a slew of Razzie noms. Since then, she had a recurring guest role on 'Scrubs' and found a career resurgence in the form of horror-comedy-parody franchise, 'Sharknado'.
Thomas Ian Nicholas
After playing Kevin Meyers, Nicholas had a minor role on'Party of Five' and has done guest work on various television shows, including 'Medium' and 'Grey's Anatomy'.
Eddie Kaye Thomas
Kaye Thomas was the youngest cast member at the age of 19 when he played Finch in the AP films. Following his dalliances with Stifler's mum, the now 38-year-old starred in another gross-out film, 'Freddy Got Fingered' and has voiced Barry on 'American Dad' since 2009. In 2014 he joined the cast of Scorpion as Toby Curtis appeared in 2015's 'The List'.
Seann William Scott
Did you know that Seann William Scott's iconic performance as Stifler in the first film earned him just $8,000? Following the OG 'American Pie' film, his character was given a bigger role, which has since become the actor's most well-known character. After AP, he took on parts in 'Road Trip', 'Final Destination', 'The Dukes Of Hazard' and 'Goon'. These days, he's involved in the 'Lethal Weapon' remake for TV.
Alyson Hannigan
Image: Getty
Bringing the phrase "this one time, at band camp" into the pop culture vernacular as horny band geek Michelle Flaherty, Hannigan has since enjoyed great success as an actor, starring in 'Buffy' and 'How I Met Your Mother'.
Eugene Levy
Image: Getty
Famously referred to as 'Jim's Dad', Eugene Levy is the only actor to appear in every 'American Pie' film. Since 2015, he's has starred in the popular television series 'Schitt's Creek', which he created alongside his son, Daniel Levy.
Shannon Elizabeth
Image: Getty
After playing sexy foreign-exchange student Nadia, Elizabeth enjoyed a series on roles in 'Scary Movie', 'Jay and Silent Bob Strike Back', and 'Tomcats'. Now, she seems to have stepped out of the spotlight, choosing to focus on her charitable endeavours, which include 'Animal Avengers', a non-profit organisation founded by the star.
Natasha Lyonne
Image: Getty
Another actor who has lead a successful career following the 'American Pie' flicks, Natasha Lyonne has since starred in hit TV shows 'Portlandia' and 'Orange Is The New Black'. More recently, she appeared in the popular Netflix comedy-drama series 'Russian Doll', which she created alongside Amy Poehler and Leslye Headland.
Jennifer Coolidge
Image: Getty
Who could forget Jennifer Coolidge as Stifler's mum?! After the iconic role -- which Coolidge credited for reviving her love life -- the now-57-year-old has had a ton of roles in films like 'Best in Show', the 'Legally Blonde' films, 'Click', and more recently, she starred as Sophie in the CBS sitcom '2 Broke Girls'.
Image: Getty