Revisiting The Most Iconic Outfits From The OG 'Charlie's Angels' Films
With the trailer for the 'Charlie's Angels' revival dropping today, we revisit the fierce fashion from the OG film that had our teenage selves screaming.
And before anyone says anything, yes, we are aware that the ORIGINAL original 'Charlie's Angels' were fabulous '70s style icons, but the weird, wacky and wonderful fashion trends of the 2000s will forever have that special place in our hearts, so don't @ us, k thnx.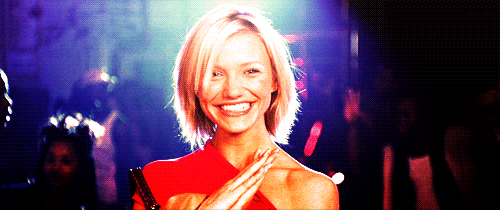 Across the first 'Charlie's Angels' film and its 2003 sequel, 'Full Throttle', Natalie Cook (Cameron Diaz), Dylan Sanders (Drew Barrymore) and Alex Munday (Lucy Liu) were the trio of babes who kicked some serious bad-guy butt -- and looked fab doing so.
From their scorching-hot racetrack outfits to their amazingly impractical motocross get-ups, the girls certainly knew how to go incognito in style.
Take a look at some of the most iconic outfits that 'Charlie's Angels' blessed us with.
READ MORE: Elizabeth Banks Finds Her Trio For Charlie's Angels Reboot
READ MORE: Here's Your First Look At The New 'Charlie's Angels' Starring Kristen Stewart
Oktoberfest-Chic
Who could forget the scene where the girls donned skimpy versions of the traditional German Lederhosen and Dirndl as they yodelled nonsensical German? Making the infamous clip even better is finding out that Dylan's line, "Mein Ziegenbock ist sexy!" translates to "my billygoat is sexy".
Hot-Diggity Dog!
Disguised as hot dog vendors as Natalie played the role of surfy beach babes, you can't deny that Alex and Dylan's matching uniforms were absolutely adorable. Plus, blonde Drew Barrymore is always our fave Drew Barrymore.
Sexy Scuba Steve
Look, they may have not offered much in the way of decolletage protection, but the girls' super sexy scuba suits give us major Michelle Pfeiffer as Catwoman vibes, and that's always a winner.
Camo Queens
Have you noticed that camo is suddenly back in a big way? And is it a coincidence that the Angels turned it into fashion almost 20 years ago? Most definitely!! Still, the trio taught an entire generation how to ~work~ the difficult print into a totally wearable, fashionable 'fit.
Hey Sailor!
Turning the heat right up, the trio showed off their sultry moves in their 'Pink Panther' burlesque striptease alongside the famous Pussycat Dolls. Complete with fishnet stockings, hot pants and sailor hats, the Angels continued to give us inspo for when one needs to think of a super-skimpy Halloween costume.
Back in black
Black will forever be chic and timeless, but it's the details that make these colour-coordinated outfits iconic. The group nailed various trends of the early 2000s -- just look at those low-slung belts and that one-shoulder top. True icons!
Are they fur-real?
When we watched 'Full Throttle' for the first time upon its release, we thought Natalie's fur-tipped snow bunny outfit complete with pigtails was THE coolest thing we'd ever seen. And as adults, we still stand by that.
Motocross Mayhem
Where to even start with these iconic looks?? First of all, they look like more shinier, cooler Power Rangers, which in itself is amazing. Plus the makeup, the hair (note: Dylan's mullet) and the fact that singer Pink had a cameo in this scene -- all of it gives us life.
Holiday Honeys
This is EXACTLY what we would imagine wearing after banishing all the baddies and then kicking back with a cocktail on a tropical island with your gal pals. The lei, the beach waves, the tied crop -- all of this is one HUGE mood. Loves it!
Trackside Trio
Honestly, we think these getups -- specifically Dylan's -- might just be our favourite outfit of them all. We still die over how good Drew Barrymore looks with blonde wavy hair and all we want to do in life is look like that. Is that too much to ask??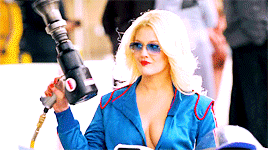 The new 'Charlie's Angels' hits cinemas on November 14, or you can check out the 2000 film and 'Charlie's Angels: Full Throttle' on Stan.
Image: Getty