Harry Potter Studio Tour Unveils Gringotts Wizarding Bank
Get ready, Potterheads, coz Warner Bros. Studio Tour London: The Making of Harry Potter has just unveiled their latest attraction.
In what's been the studio's biggest development since they opened to the public in 2012, the Warner Bros. Studio Tour in the UK will soon be opening the latest addition for its 'Making of Harry Potter' tour -- Gringott's Wizarding Bank!
Fans will be able to witness where all the money and treasures in the magical world of Harry Potter reside, with tour highlights include the ability to explore Bellatrix Lestrange's vault, witness how the goblins prosthetics and costumes are made, as well as being able to walk through the grandiose grand banking hall.
READ MORE: J.K. Rowling Coined The Perfect Harry Potter Version Of "Mansplaining"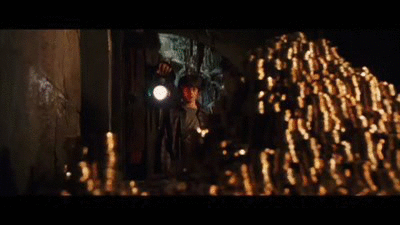 According to the tour website, the set will be "lined by towering marble pillars, [while] the grand banking hall will be decorated with three magnificent crystal chandeliers and finished with real brass leaf."
READ MORE: Last Fantastic Beasts 2 Trailer Features A Major Harry Potter Twist
Warwick Davis, who played Gringotts employee Griphook in the films, said to Reuters of the expansion: "It was a real restoration process... to bring all of these back to life and back to camera-ready condition."
"These sorts of products deteriorate very quickly in storage so it's quite a feat to actually see them here looking as good as they do," he added.
READ MORE: A Harry Potter Fan Just Fixed The Series' Biggest Mistake
The set was built by many of the original crew members who worked on the Harry Potter films, including award-winning Production Designer Stuart Craig, Construction Manager Paul Hayes and Head Propmaker Pierre Bohanna.
Gringotts Wizarding Bank will open to the public on April 6th.
Image: Warner Bros.