'Captain Marvel' Smashes Box Office And The Patriarchy
'Captain Marvel' is currently the biggest-grossing film of 2019, after a massive opening weekend.
Earning a whopping US$153 million at the US box office, Marvel's latest superhero outing also raked in more than $300 million internationally, making it the fifth-highest of all time.
After 10 years of the Marvel Cinematic Universe, Captain Marvel marks the first time an MCU film has been led by a female character, and the results look promising already.
Disney's Cathleen Taff was thrilled with the results, saying that nothing surprised her when it came to the Marvel titles.
"The fans are loyal and come out," Taff said, "Kevin Feige continues to deliver amazing content that pushes the envelope on diversity so anyone can see themselves as a superhero."
READ MORE: 'Captain Marvel' Tracking For $100 Million Opening Weekend
READ MORE: Rotten Tomatoes Is Changing User Reviews To Combat Online Trolls
Captain Marvel has now had the sixth-best worldwide opening with the combined gross of over $455 million. It sits behind Harry Potter and the Deathly Hallows Part 2, Jurassic World, The Force Awakens, The Fate of the Furious and the gigantic Avengers: Infinity War.
Meanwhile, the star of the film, Brie Larson, stopped by a few cinemas decked out in some Captain Marvel sweats thanking fans for coming out and supporting the film on opening weekend.
This tweet is unavailable or no longer exists.
This tweet is unavailable or no longer exists.
It's incredible to see Captain Marvel succeed across the globe, especially after efforts of trolls attempted to boycott and review-bomb a film they saw as "social justice warrior propaganda" because it had the audacity to feature a lead female character.
The efforts to drag the audience scores down on sites actually forced Rotten Tomatoes to completely change the way they list films before release.
Trolls attempted to drag Captain Marvel's "Want to See" score down which led the review aggregator to remove the metric as well as the ability to comment on films prior to their release.
Captain Marvel's global box office success goes to show films featuring strong women in lead roles are still a massive draw for audiences, despite being few and far between superhero films led by dudes named "Chris".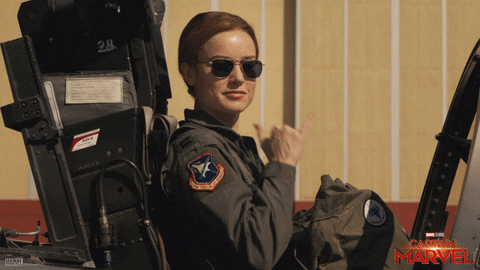 Captain Marvel is in cinemas across Australia now.
Featured image: Marvel Studios.