Emma Stone Has Never Watched 'Easy A'
It's arguably the role that catapulted her toward the A-list, but Emma Stone says she's never seen the movie.
If you haven't seen Easy A, well... that's on you, but the movie stars Stone as Olive Penderghast, a 17-year-old high school student who finds herself in the middle of a bunch of rumours.
When Olive lies to her best friend about going on a date to get out of a camping trip, rumours begin to fly that she lost her virginity. It soon get completely out of hand and Olive is basically living her own version of The Scarlet Letter.
READ MORE: Emma Stone Is Going To Play A Punk Cruella De Vil
READ MORE: Emma Stone Admits She Named Herself After Baby Spice
It also stars Penn Badgley, Amanda Bynes, Thomas Haden Church, Lisa Kudrow, Patricia Clarkson and Stanley Tucci and is a hysterical take on high school culture.
It's also the reason that "Pocket Full of Sunshine" will always, always be stuck in our heads.
The film is hysterically funny and Stone is EASILY the star -- she's in almost every scene and narrates the film, so it was a massive undertaking for her first major role.
The Academy Award winner also revealed... she's never seen the whole thing.
"I've seen some scenes," the 30-year-old said in Variety's Actor on Actor series while chatting to Timothee Chalamet.
"I went to a friends-and-family screening to see it," she continued, "and I had to get up and walk out. Who wants to watch themselves for that long?"
"I was 20 and I put so much pressure on myself. While we were shooting it, I was just going nuts and was like, 'I don't know, this whole thing could fall apart, I have no idea.' I had to be there all day, every day. And if I wasn't on screen, I was narrating, and it was just too much me."
"It was the first time that I had ever had to rely on myself mostly to be able to carry all that," he said adding, "I think I just put so much pressure on myself."
As much hard work and pressure Stone put on herself, her natural comedic talents shine in the movie and while she may not have seen the whole thing... we might go back and watch it another 15 times.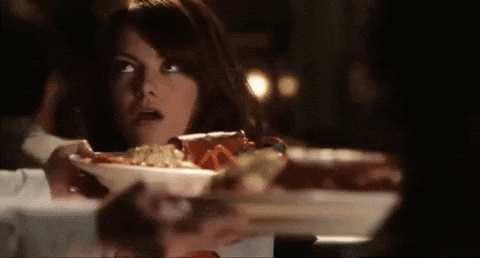 Featured image: Screen Gems.