Could 'Back To The Future' Be The Next Big Hollywood Reboot
A recent poll saw fans voting for which film series they wanted to see back.
It turns out a big chunk of American filmgoers really want to go back... Back to the Future that is.
After The Hollywood Reporter asked fans what film series they wanted to revisit a whopping 71 percent said they would be keen to see Marty McFly and Doc Brown back on the big screen.
The survey, which sampled more than 2,200 Americans in early November, saw a hugely positive reaction to the idea of another Back to the Future flick. The time travelling franchise beat out other iconic film series like Toy Story and Indiana Jones.
READ MORE: The ALF Reboot Is Dead Because Literally No-One Was Interested
READ MORE: Enough Already With The Reboots. They're Killing Television.
It's an ongoing trend with movies and TV -- rebooting, remaking and reimagining classics from the last few years, with ranging success rates.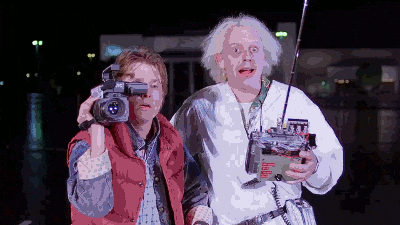 Unfortunately for fans, Robert Zemeckis has shot down any rumours that there could be a fourth BTTF film in the works.
After Doc Brown himself told Pheonix New Times he wouldn't mind reprising his role "if they can come up with the right idea", the series' co-writer and director had other ideas.
Not mincing words, Zemeckis told an Italian website, "There will not be any more Back To The Future."
It might sound grim but that doesn't necessarily rule out a future revisit to the world of BTTF, as both Zemeckis and his co-writer Bob Gale have both said a fourth film is out of the question while they're still alive. Unfortunately, after that, it would be down to their estates to battle it out with Universal.
So, what do you think? Should we go back?
Featured Image: Universal Pictures.