Netflix And Chills: Spooky Content To Stream This Halloween
It's almost time for the spookiest day of the year, so grab your popcorn and get comfy, 'coz we've got all the spookiest content for you to watch on Stan and Netflix this Halloween!
Fun fact: According to Netflix Australia, the horror genre sees a 50% rise in viewing during the month of October, with the most watched horror night of the year being October 21st.
So whether you're a fan of classic slasher flicks or more into suspenseful series, both Netflix and Stan have a whole lotta spooky content for you to scare yourself silly for fright night.
Warning: You may wanna sleep with the lights on after watching these...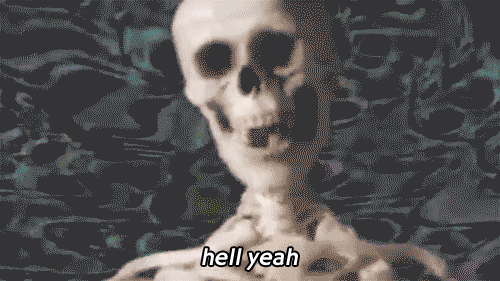 Spooky Series
The Haunting Of Hill House
Yep -- this is the series that everyone is talking about RN, and when the king of horror Stephen King himself calls something "close to a work of genius", you know it's gonna be good! The Netflix Original is based off Shirley Jackson's novel, in which a group of siblings who grew up in what would go on to become the most famous haunted house in the country. Years later, they return to confront ~the ghosts of their past~, with spooky results (obvs).
Creeped Out
Kind of an Are You Afraid of the Dark meets Black Mirror, this kids series that depicts creepy tales told by a creepy dude in a mask called 'The Curious' who tells kooky tales of dark magic, otherworldly encounters and other things that give us the heebie-jeebies.
Wolf Creek
If you loved the movie, then defs check out the series that again stars John Jarratt who plays the insanely scary Mick Taylor. In season one, ol' Mick slaughters an American family holidaying in the outback, with daughter Eve left as the only survivor. Hell-bent on avenging her family's brutal deaths, Eve sets out to track down Mick to get her revenge.
Hannibal
Based on the novels by Thomas Harris, Hannibal explores the early relationship between the renowned psychiatrist and his patient -- FBI profiler Will Graham, who has the ability to empathise with serial killers. So if you've seen Silence of the Lambs, the events in the series take place BEFORE that. Also, while Mads Mikkelson's performance as Hannibal Lector is totally different from that of Sir Anthony Hopkins', he is SO SO good in the role. This series is one of my all time faves and is vastly underrated. Get into it!
The Chilling Adventures Of Sabrina
Remember Sabrina The Teenage Witch? Well, this is like the way creepier version. It follows 16-year-old Sabrina -- who discovers she is half-witch on her b'day, and must balance her new sorceress life with her human life. It's also produced by the same people that made Riverdale, so if you're a fan of that, we reckon you'll love this.
iZombie
If you want to watch something with spooky themes but still want to be able to sleep at night, iZOMBiE is a good choice. Basically, Liv Moore is a med student who suddenly turns into a zombie and begins working at the coroner's office so she can have easy access to brains. Discovering that she happens to inherit the memory of each corpse brain she eats, she uses her new ability to help solve crimes.
Devilish Docos
Cropsey
A childhood urban legend conjured up to keeps kids from exploring abandoned buildings becomes reality when a mysterious man begins abducting kids in a small town. Fast forward a few decades, and two filmmakers set to find out the story behind 'Cropsey' -- a deranged mental patient who was rumoured to have everything from a hook for a hand to use an axe on his victims. Crazy stuff.
Haunted
For those who love some IRL spooky stories, Haunted gives a chilling glimpse through re-enactments into the first-person accounts from people who have witnessed crazy supernatural events and other unexplained phenomena that continue to haunt them. Spooky!!!
Evil Genius: The True Story of America's Most Diabolical Bank Heist
A true crime story about the "pizza bomber" case of 2003, where a man named Brian Wells attempted to rob a bank with an explosive device locked around his neck. Begging police to remove the device and insisting someone else forced him into the robbery, things quickly take a turn for the worst, and an even more bizarre story unfolds.
The Nightmare
Ever heard of sleep paralysis? Well, The Nightmare is a doco that explores this terrifying affliction, which is when the sufferer is between being awake and asleep -- but also completely paralysed and aware of it. As some claim to see shadows, demons, or feel a sense of impending doom, it's no wonder that this sleep disorder was the inspiration behind A Nightmare On Elm Street.
The Imposter
This is legit one of the wildest docos I've watched. It's not that's it's stereotypically 'scary,' but the fact that it's a true story makes it creepy. Basically, in 1994 a boy in Texas goes missing without a trace, then three and a half years later he's found alive in the south of Spain. While his family is overjoyed to bring him home, things quickly start getting REALLY bizarre...
Casting JonBenet
I don't know about you, but I've always been fascinated by the JonBenét Ramsey case from way back in 1996. Maybe because when she was found dead she was the same age as me, or maybe because there's just so many strange things about the whole case. This Netflix Original doco explores the infamous case, turning to the local residents of Boulder to piece together what they know about the crime.
Freaky Flicks
Malevolent
A pair of siblings/scam artists preys on grief-stricken families by faking the ability to contact the dead. It's a simple con, until a woman called Mrs. Green summons the pair to her home -- the orphanage that was once stage to a string of murders of young girls -- and the duo quickly realise they've taken on something far more sinister.
Gerald's Game
Gerald and Jessie are trying to ~spice up~ their sex life while holidaying in an isolated lake house. Gerald handcuffs Jessie to the bed -- but dies of a heart attack which leaves her still cuffed and unable to escape (unlucky!!). With no one around to free her, Jessie starts to see twisted visions and soon the dark secrets from her past begin to haunt her, and she has to make a dire choice in order to save her life.
Scream
When it comes to iconic horror films, you cannot go past Scream and its sequels. Starring '90s scream queen Neve Campbell, it's the quintessential slasher flick about a bunch of teens that become the target of a masked killer (aka Ghostface).
Before there was Chloë Grace Moretz, there was Sissy Spacek playing the role of Carrie in the 1976 flick. Another Stephen King adaptation, it's about a girl who is relentlessly bullied by classmates, culminating in a cruel prom prank in which she is humiliated in front of her entire grade. We won't spoil it, but sh*t soon gets REAL for her nasty classmates.
Hold The Dark
A that follows William Giraldi's novel of the same name, Hold The Dark is about a wolf expert who is summoned to a remote Alaskan village to search for wolves that took three children, but he soon finds himself caught among a chilling mystery plaguing the town.
Halloween H20: 20 Years Later
Unless you've been living under a rock for a month, you'd know that everyone has Halloween fever (the movie, not the actual day). But if you CBF to battle the cinema crowds for the latest sequel, check out the 1998 movie (also starring OG star Jamie Lee Curtis as Laurie Strode). The flick takes place 20 years after the events of the first film and is chockas with all that '90s slasher flick goodness we know and love. You can also check out ten daily's interview with Jamie Lee Curtis here.
Image: Dimension Films/Stan