Disney May Be Looking To Reboot Pirates Of The Caribbean ... Already
A year after the last 'Pirates of the Caribbean' hit cinemas Disney may be already looking to reboot the franchise.
According to Deadline, the mouse house has been in "early talks" with Rhett Reese and Paul Wernick, the writing team behind both Deadpool movies, to potentially come up with a new direction for the Pirates films.
The "rebooted" franchise would still see producer Jerry Bruckheimer at the ship's helm.
While Disney didn't respond to Deadline, it does make sense that the studio could potentially be looking to head in a new "creative direction" that may not include Captain Jack Sparrow, aka Johnny Depp.
READ MORE: Johnny Depp Claims JK Rowling "Knows" He Was "Falsely Accused"
Depp has recently become a burden on productions, with his involvement in JK Rowling's Fantastic Beasts sequel The Crimes of Grindelwald drawing massive amounts of criticism and controversy.
The fifth and most recent Pirates instalment, Dead Men Tell No Tales, was the lowest grossing in the series to-date, earning just under $200 million USD at the domestic box office.
As Depp and his former management went to court they alleged the Pirates star was spending wads of cash to keep a sound engineer on a yearly retainer to feed him his lines to him through an earpiece.
Anonymous stories told of his spending $30,000 a month on wine, his constant lateness which put massive delays on the production and the staff that were hired to essentially babysit the actor in order to get him to the set.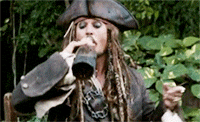 Despite the troubles and the underwhelming result for the fifth film, the entire franchise has still earned over $4.5 billion dollars since the first movie launched in 2003.
When the trailer for Dead Men Tell No Tales was first released it called itself "the final adventure", marking an end to the series in some form. Though the film's director clouded that by saying: "this is the beginning of the finale", leaving the potential to revisit the franchise later.
Whatever they decide, it will be interesting to see what form the incredibly lucrative franchise is able to do from here, as it stands there's no word on if any of the previous cast would be brought over to the "rebooted" series, or if Disney plans to start from scratch.
Image: Walt Disney Pictures.