Lilo & Stitch To Get A Live-Action Remake At Disney
Sounds like someone in the "ideas" department of Disney thought to Google, "what movies haven't we remade yet" because guess what...
Lilo & Stitch is the latest in Disney's ever-growing plan to just... remake all their animated films but make it live action.
The 2002 animated film followed the story of a young Hawaiian girl named Lilo who adopts a dog she calls Stitch. Stitch is, as it turns out, not a dog at all but an alien, engineered to cause chaos.
Despite being chased by an intergalactic federation, Lilo and Stitch ultimately formed a bond that was rooted in the Hawaiian concept of 'ohana.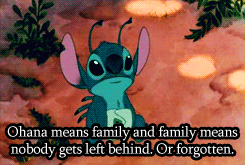 Dan Lin and Jonathan Eirich are currently working on Disney's live-action remake of Aladdin, but are also looking to produce a live-action/CG hybrid of Lilo & Stitch, according to The Hollywood Reporter.
It also won't be the first film blending live-action aspects with CG, with Dumbo and The Lion King also in the works alongside Aladdin.
Disney has had massive success in pumping out live-action remakes, with Cinderella, The Jungle Book, Maleficent and Beauty and the Beast performing well for the studio.
READ MORE: Mary Poppins Returns In First, Heart-Wrenching Trailer
READ MORE: Oh Happy Days! Whoopi Goldberg Confirms Sister Act Reboot
Other live-action remakes in the works are a Maleficent sequel to star Angelina Jolie, a Mulan reboot and even a Lady and the Tramp remake.
The mouse house is also planning to launch a streaming service in 2019, which has led some to believe that the live-action Lilo & Stitch outing could be another draw to get audiences onto the currently unnamed streaming platform.
Disney's next live-action reboot will be Mary Poppins Returns which sees Emily Blunt stepping into the iconic nanny's very famous shoes for a reboot/sequel in January 2019.
Okay, see you next week when Disney will most likely announce what other entries on their Wikipedia page they're planning to remake.
Featured image: Disney.