Back To The Future Cast Reunite And Talk Possible Sequel
Could we be going Back to Back To The Future?
It was definitely a blast from the past on the weekend when the stars of Back to the Future were reunited at Fan Expo Boston.
During the meet-up Michael J. Fox, Christopher Lloyd, Lea Thompson and Thomas Wilson gathered to sign autographs, answer a few panel questions and take a few happy snaps together.
But the BIG question on everyone's mind was: would Back to the Future be the next iconic franchise to get the reboot treatment?
The idea of a Back to the Future 4 has been floated a few times in the last few years, with every other movie and TV show getting the reboot treatment, but there have been several road blocks.
Previously Bob Gale, co-writer and co-producer of the original trilogy, told Yahoo Movies he wasn't interested in attempting to re-capture the magic of the classics.
"We've seen a lot of sequels that are made years and years later and I don't think I can name one that's any good, that lives up to the originals. I don't think you can recapture it," Gale said -- probably mouthing the words "Jurassic World" as he finished.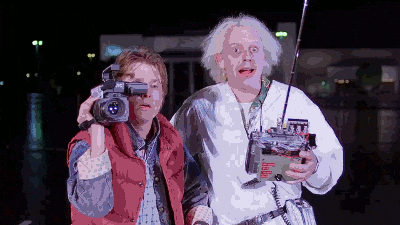 During the Boston Expo Wilson, who played the villainous Tannens across history, joked about the idea.
"Basically, I think America is saying, 'Come on they've wrecked every other franchise with bad sequels, why not this one?'"
Michael J. Fox added that Gale -- who was previously totally not keen on the idea -- was the "gatekeeper of the franchise" which is why the idea is probably as dead as a DeLorean without a flux capacitor.
Featured image: Instagram @mrchristopherlloyd.