What The Cast Of It Chapter 2 Looks Like Compared To Chapter 1
You'll float two.
Undeniably one of the biggest films of last year, It: Chapter 1 was based on Stephen King's iconic novel which followed the Losers' Club as they battled a demonic clown trying to terrorise their town.
Bill Skarsgård played Pennywise the Dancing Clown, a shape shifting demon that wakes every 27 years to terrorise the town of Derry, Maine picking one of the most terrifying forms -- a clown.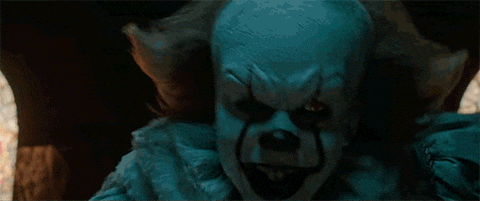 At the end of the first film the Losers were forced to overcome their fears and work together to stop Pennywise from abducting any more children to feed on.
The film always had plans to return for a sequel, picking up where our Losers left off, 27 years later... which means Pennywise will be back for more blood. The film also posted the first look at the Losers in adult form reunited.
This tweet is unavailable or no longer exists.
So here's what the Losers club will look like, next to the kids who played them in the Chapter 1.
Bill Denbrough: Jaeden Lieberher & James McAvoy
The reluctant leader of the Loser's Club, Bill Denbrough's journey begins after his little brother Georgie goes missing. Originally played by Jaeden Lieberher, grown-up Bill will be played by James McAvoy.
Beverly Marsh: Sophia Lillis & Jessica Chastain
The only girl in the Loser's Club, Beverly was originally played by Sophia Lillis. Despite being a spitting image of a young Amy Adams, adult Beverly will be played by Jessica Chastain. Chastian has worked with director Andy Muschietti before in the horror film Mama, which he wrote and directed.
Richie Tozier: Finn Wolfhard & Bill Hader
Foul-mouthed Richie Tozier was originally played by Stranger Things' Finn Wolfhard, and in the sequel will be played as a grown-up by Bill Hader. Hader was a fan-favourite during his time on Saturday Night Live so the wise-cracking Richie.
Ben Hanscom: Jeremy Ray Taylor & Jay Ryan
The new kid on the block, Ben Hanscom started off without any friends, but through the deeply traumatic experience of being hunted by a demon clown, Ben ended up an integral member of the Loser's club. Originally played by Jeremy Ray Taylor, adult Ben will be played by Kiwi actor and Neighbours alum Jay Ryan.
Mike Hanlon: Chosen Jacobs & Isaiah Mustafa
Mike Hanlon was originally played by Chosen Jacobs, the home-schooled orphan who saw his parents perish in a fire was raised by his strict grandpa. Grown-up Mike will be played by a face you'll no doubt find familiar, the Man You Wish You Smelled Like -- Mr Old Spice himself -- Isaiah Mustafa.
Stanley Uris: Wyatt Oleff & Andy Bean
Young Stanley Uris had to juggle his upcoming bar mitzvah and a demon woman in a creepy painting terrorising him. Originally played by Wyatt Oleff, adult Stanely will be played by Andy Bean. Bean's known for his roles on a few series like Power and Here and Now and has popped up in movies like Transformers: The Last Knight and Allegiant.
Eddie Kaspbrak: Jack Dylan Grazer & James Ransone
Look, it's difficult to say any one member of the Loser's Club was your favourite unless you're talking about Eddie. The tiny hypochondriac battling the evil forces around Derry while also trying to figure out if his mum is poisoning him? An icon. Played hilariously by Jack Dylan Grazer in Chapter 1, Eddie will be played as an adult by James Ransone.
BONUS - Henry Bowers: Nicholas Hamilton & Teach Grant
Not officially part of the Loser's Club -- because he was too busy... trying to kill them -- Henry Bowers had a pretty troubling time in Chapter 1. Originally played by Nicholas Hamilton, a deleted scene showed Henry's violent tendencies to the absolute extreme, meaning actor Teach Grant has some bloody shoes to fill in Chapter 2.
IT: Chapter 2 is currently scheduled to release in September next year, stay tuned for more updates and any demonic sewer clown sightings.
Feature image: Getty / Warner Bros. Pictures.