A Willy Wonka Remake Could Be In The Works And The Casting Rumours Are Wild
There's no earthly way of knowing which direction casting's going.
Remember how in a bargain for its youth Hollywood made a deal with the devil that every movie had to either feature a famous Chris or superheroes or just be a remake? Well great news, remake fans!
According to several reports Warner Bros. is looking to reboot Willy Wonka & the Chocolate Factory and now a speculative shortlist of actors has been leaked for who they're considering to take up the top hat.
Paddington director Paul King has been hired to direct the Wonka film that's apparently going to be an origin story -- possibly to retcon that terrible storyline from the Tim Burton version where Johnny Depp's creepy Wonka was a slighted, pale child of a dentist.
Collider reported this week that three actors are tipped to be in the lead for the role, Ryan Gosling, Donald Glover and Ezra Miller.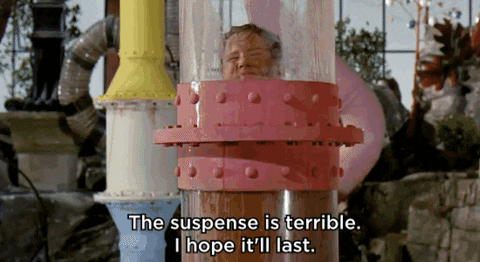 The role, of course, was perfected on screen by Gene Wilder in the 1971 Willy Wonka & the Chocolate Factory, then in 2005 Burton released his musical "comedy" film with the original novel's title, Charlie and the Chocolate Factory.
Each of the three actors would bring something so varied and different to the role of Wonka, a man who charmingly sings and dances his way through a series of jolly child tortures before finally finding his factory's successor.
Miller has signed up to several Warner productions recently playing both the Flash in Justice League as well as his ongoing role in the Harry Potter spin-off Fantastic Beasts series.
Glover might be the fan-favourite to take the role, and he's had quite the year, starring in Solo: A Star Wars Story, releasing "This Is America", one of the year's most-discussed music videos and having his series Atlanta renewed for a third season. His ability to blend his comedic talents with a captivating sinisterness would work perfectly in the role.
Meanwhile we CAN'T begin to see Gosling as anything more than a Wonka who just woos all the kids' mums before taking a smoke break and writing a poem about Oompa Loompas while he has a cry behind the factory.
Despite the Collider piece tipping Glover, Miller and Gosling, the Internet has another idea, casting Janelle Monáe in the lead.
This tweet is unavailable or no longer exists.
This tweet is unavailable or no longer exists.
This tweet is unavailable or no longer exists.
Featured image: Paramount Pictures / Getty images.