Get Ready To Feel Some Damn Feelings With Disney's Christopher Robin Trailer
I don't remember ordering any emotions today!!!
Disney dropped the first trailer for their new film Christopher Robin and honestly how dare they do this to us.
The adorable film is the perfect blend of your childhood and everything good in the world, culminating in a shaggy, sweet film that looks like Hook! meets Toy Story. We aren't ready.
The film stars Ewan McGregor as a grown-up Christopher Robin, one who has broken his promise to remember Winnie the Pooh and the rest of his Hundred Acre Wood family for ever and ever.
Christopher Robin gets a surprise visit from Pooh, the pair reunite to track down Eeyore, Piglet, Rabbit, Owl and Tigger too. The quick reunion makes Pooh realise Christopher Robin has forgotten the important things in life, caught up in the hustle and bustle of London life, neglecting his family.
So it's up to Pooh and the gang to save the day. And we, as grown-ass adults, cannot wait to see this.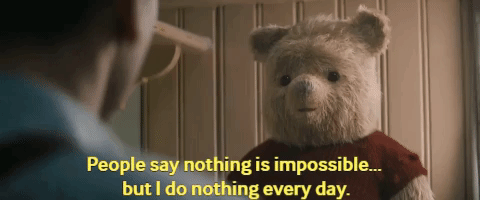 The film stars McGregor alongside Hayley Atwell and Bronte Carmichael as well as the vocal talents of Brad Garrett, Peter Capaldi, Toby Jones and Jim Cummings.
Cummings has voiced Pooh since 1988, and began voicing Tigger the following year which is why hearing them in the trailer feels exactly like a nostalgia-shaped punch to the guts.
This tweet is unavailable or no longer exists.
This tweet is unavailable or no longer exists.
This tweet is unavailable or no longer exists.
Christopher Robin is set to open later this year. We'll probably be in the front row sobbing loudly like totally well-adjusted adults.