All The Times Studio 10's Sarah Harris Had Us In Absolute Stitches
We can't be the only ones to have noticed that Studio 10 co-host Sarah Harris has been on fire lately.
Whether she's outing her filthy sense of humour on Hughesy, We Have A Problem or adding some sassy commentary as a guest host on The Project, the 36-year-old regularly has us -- and the rest of Australia -- in stitches.
Here are some of our favourite knee-slappers from the hilarious journo for you to enjoy.
1
When she announced her second pregnancy…
This tweet is unavailable or no longer exists.
In what was news to both the audience and her co-hosts, Sarah announced that she was expecting during a live segment on Studio 10, where she blurted, "I'm sick of holding my stomach in. I'm having a baby".
She added that she had been hiding behind her desk as she felt her colleagues knew she was up to something.
"I've been pretty queasy and pretty tired. You pop so much quicker on the second one. I had a guest host say to me, 'Are you pregnant or have you let yourself go?'"
2
When Tommy Little called her an a**hole…
Throwing around the bants on The Sunday Project, the hosts were discussing the story of the 30-year-old man who refused to move out of his parent's home, with Sarah quipping, "Who wouldn't want a man child in his thirties, Tommy Little?"
Tommy was left momentarily speechless before joking back, "You're a real… A**hole."
3
When she got real on being a mum...
Following the birth of her second (totally adorable) baby Harry Scanlan Ward, Harris didn't hold back when it came to showing the less-than-glam side of being a mum.
"You're getting sleepy…sleepy!" she wearily pleaded to the newborn bub in a video posted to her Instagram story. "Mummy is getting sea sick…sea sick," she added as she pushed his rocker.
Every mum can relate to that struggle!
4
When she accidentally live-streamed herself sleeping…
We all live in constant, paralysing fear of accidentally posting something on social media without realising -- so spare a thought for Sarah, who once woke up to a slew of messages informing her she had somehow managed to broadcast herself sleeping (and snoring) via Instagram Live -- to her 63,000 followers!
5
When she swore on live TV…
"I dropped the F bomb three times!" Harris revealed on Mia Freedman's No Filter. "I could hear myself on a three second delay in my earpiece and I have a very potty mouth, so I said to the cameraman 'Mate, we've got to get this effing ear piece fixed, I can't effing hear myself effing think!' and that went to air."
She added, "People were making polls asking if I should lose my job, I was just mortified!"
6
When she threw shade at a 30-year-old cat…
Discussing the world's oldest cat, Rubbles, who had just celebrated his 30th birthday, Harris remarked, "I love the flashback from when Rubbles as a kitten, but now Rubbles isn't having a very good time is he?" she said on The Sunday Project.
"He's 137 years old in human years. Do you think he's saying to his owner, 'Get me on a flight to Switzerland NOW, I am done'."
7
When she announced on TV that she had 'a big vagina' ...
8
When she told body-shamers to get stuffed…
The last thing you want to hear while seven months pregnant is absolutely anyone's opinions on your changing body, and for the Studio 10 host, she was having none of it when unflattering photos published online led to a barrage of horrible comments.
"Some of them were just revolting," she said on Studio 10, adding, "Having a go of how huge I am, how fat I am, how ugly I am, and when you're pregnant you do feel very vulnerable and self-conscious about your body and I did feel pretty awful about the comments and the pictures, but then I thought 'you know what? Bugger it, I'm growing a baby. This is me'."
"This is how I get around once I leave work, I take off the pretty frocks, the heavy makeup, the hair, I take off my Spanx which I'm still wearing. That's what I look like and that's OK."
She added, "On behalf of all the pregnant women out there who might be feeling a little bit chubby and a little bit flabby, on behalf of all of them, I want to say to the haters 'get stuffed'. And by the way, I wasn't leaving work, I was leaving a Mexican restaurant where I had an awesome, awesome chicken burrito at the time…"Don't try and come between me and a chicken burrito."
Preach, girl, preach.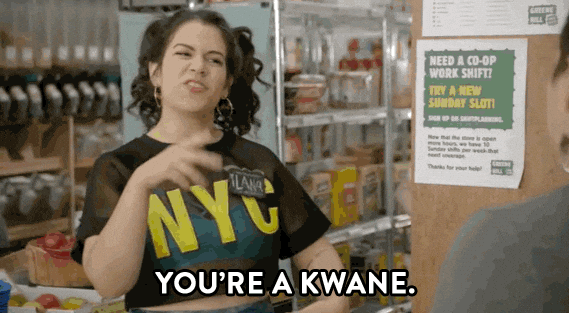 Feature image: Getty