Dolly Parton Wants To Pose For Playboy For Her 75th Birthday
Dolly Parton is hoping to celebrate her 75th birthday next year in her birthday suit -- for Playboy, that is!
Speaking to 60 Minutes on Sunday, the bubbly blonde told Aussie correspondent Tom Steinfort that she had no plans to retire in the foreseeable future and wanted to make an appearance in the famous magazine.
"Well, I don't plan to retire. I just turned 74, [and] I plan to be on the cover of Playboy magazine," she told Steinfort.
If the "9 to 5" songstress decided to celebrate her birthday with a sexy shoot, it would mark the second time that Dolly has appeared in Hugh Hefner's iconic men's mag, with the star gracing the cover back in 1978.
On the vintage cover, the then 32-year-old donned the signature Playboy bunny costume, including a black bustier, bunny ears, a bow-tie, and cuffs.
This tweet is unavailable or no longer exists.
"See, I did Playboy magazine years ago," Dolly told 60 Minutes. "I thought it'd be such a hoot if they go for it -- I don't know if they will -- if I could be on the cover again when I'm 75."
Asked if she could bring back the same costume from the OG photoshoot, Dolly mused, "I could probably use it, maybe. Boobs are still the same!"
"I'm kind of cartoonish and cartoons don't really age that much. When I'm 90, I'll probably look about the same way. Just thicker makeup, bigger hair."
Never change, Dolly!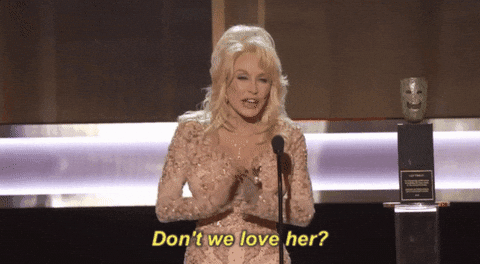 Image: Getty/Instagram