Rude As Hell: Jillian Michaels Is Getting Absolutely Roasted For 'Fat-Shaming' Lizzo
After 'The Biggest Loser' US trainer Jillian Michaels passed judgement on singer Lizzo's body, fans of the 'Good As Hell' songstress made it clear they weren't here for the trainer's comments.
Speaking on Buzzfeed's morning show AM2DM on Wednesday, Michaels said Lizzo seemed "awesome", but didn't want to talk about her body.
"Why are we celebrating her body? Why does it matter? Why aren't we celebrating her music? 'Cause it isn't going to be awesome if she gets diabetes," Michaels shared about the singer.
"I'm just being honest. I love her music, my kid loves her music, but there's never a moment when I'm like, 'I'm so glad she's overweight.' Why do I even care? Why is it my job to care about her weight?" she added.
This tweet is unavailable or no longer exists.
Almost immediately, fans of the singer swiftly took to social media to criticise Michaels, with author and comedian Sarah Benincasa tweeting:
"Jillian Michaels hates her own body and is worried if other people hate their bodies less, they'll stop buying the shit she peddles. She's worried about the bottom line, not Lizzo's health (or yours, or mine.)"
This tweet is unavailable or no longer exists.
Another user added, "Her music is about positivity, personal acceptance, and celebration," they wrote.
"Part of that, especially as a plus-sized person in this culture, is rejecting the fat-phobic hatred exemplified by Jillian Michaels. Jillian Michaels is not Lizzo's health care provider, so she shouldn't comment."
This tweet is unavailable or no longer exists.
This tweet is unavailable or no longer exists.
Following the major backlash against her comments, Michaels has since released a statement to her social media accounts which read:
"As I've stated repeatedly, we are all beautiful, worthy and equally deserving. I also feel strongly that we love ourselves enough to acknowledge there are serious health consequences that come with obesity—heart disease, diabetes, cancer to name only a few. I would never wish these for ANYONE and I would hope we prioritize our health because we LOVE ourselves and our bodies."
This tweet is unavailable or no longer exists.
Meanwhile, while she didn't directly address the situation, Lizzo seemingly made reference to the comments in an Instagram post about forgiving yourself and deserving happiness.
"Today's mantra is: This is my life. I have done nothing wrong," she wrote next to an image showing the Sydney skyline from her room. "I forgive myself for thinking I was wrong in the first place. I deserve to be happy".
Lesson learned: don't ever come for Lizzo!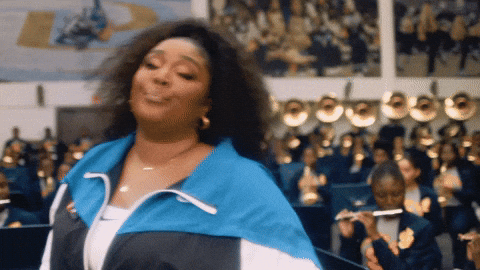 Image: Getty