Keanu Reeves Again Proves He's Hollywood's Nice Guy By Leaving Sweet Note On Fan's Sign
Keanu Reeves' reputation as the nicest guy in Hollywood continues to grow with his latest sweet act.
When Stacey Hunt from Slidell, Louisiana, heard that Keanu Reeves was in town filming the third instalment of 'Bill & Ted', her 16-year-old son, Ethan, suggested they leave a welcome message for the star in the form of a poster in their front yard.
READ MORE: The Tragic Life Of Hollywood's Favourite Leading Man Keanu Reeves
According to 'Bill & Ted' writer Ed Solomon, Keanu spotted the sign, which read "You're breathtaking!" -- a reference to his appearance at the E3 gaming conference in June, when, while walking on stage, a fan was heard yelling "You're breathtaking!" to the star. Pointing to the audience, Reeves replied, "You're all breathtaking".
"So yesterday this sign was out on a lawn on the way to set. Keanu jumped out of the car and did this," Solomon tweeted on Thursday. He then posted a photo of Keanu kneeling on the grass as he autographed the poster along with writing, "Stacey, you're breathtaking!"
This tweet is unavailable or no longer exists.
This tweet is unavailable or no longer exists.
READ MORE: Keanu Reeves Just Learned That We're All Obsessed With Him
According to Hunt, the 'John Wick' star pulled up in her driveway, before asking if he could sign her poster. He also posed for photos with her and her sons.
Reeves and the Hunt family reportedly chatted for a few minutes about his upcoming film, as well as 'The Matrix,' before Reeves re-planted the yard sign, shook the family's hands and drove away.
"What you read about him being such a great person with a great heart is true," Stacey told CNN. "At least that's what I think from my few minutes with him."
And we thought we couldn't adore Keanu any more than we already do!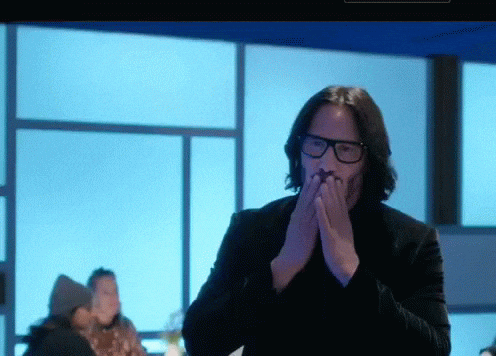 Image: Getty