A Definitive Guide To Chris Hemsworth's Bromances
From fellow hot Chrises to Matt Damon, Aussie hottie Chris Hemsworth has no shortage of bro besties.
It's no secret that Chris Hemsworth is attractive, talented, charming and just an all-around top bloke, so we're not at all surprised to discover just how many bromances the Avengers: Endgame star has with a number of fellow Hollywood heavyweights.
The latest star to speak out on their friendship with the hunky actor comes in the form of fellow Hot Chris -- Chris Evans -- who recalled how the pair first met a decade ago.
"I think I went out and you'd just done your movie [Captain America: The First Avenger]. I was training for Thor and someone introduced us. We got home about seven the next morning," Evans told Hemsworth in a recent interview with PEOPLE.
So, in the name of journalism, we examined all of Hemsworth's bromances, complete with a ranking from our handy dandy bro-meter!
READ MORE: Chris Hemsworth Picked Up A Hitchhiker Who Had No Idea Who He Was
READ MORE: Chris Hemsworth Proves He's A Superhero Dad Too
Chris Pratt
Another one of the sexy Chrises, it makes sense that Chris Pratt is also friends with his Avengers co-star. In fact, Hemsworth has previously said that upon meeting his fellow Chris, he was "shaken."
"The first time I really met Chris Pratt -- and went on set with him and the Guardians -- I was weirdly shaken," he told ELLE, adding, "I don't know why. He's just so charismatic. And good at what he does."
It seems Pratt feels the same about Hemsworth, with the star telling Ellen DeGeneres that he agrees that Hemsworth is "the hottest Chris."
"Listen, I'm gonna tell you ... I got nominated when my mum named me Chris, and I was honoured by that. Look, I gotta be honest with you, he has my vote too. I mean, look at him! That man is gorgeous."
Pratt told DeGeneres to show a side-by-side of him and his co-star showing off his chiselled body, telling the host, "Yeah, I don't have that -- that's sexy. Mine has a lot more airbrushing than that."
Kelly Slater
Among one of the more random pairings on Hemsworth's long list of bromances comes pro surfer Kelly Slater, whom the actor has been seen hanging out with and hitting the surf with.
Being keen surfers, the pair have a lot in common, with the champion surfer even giving Chris access to his famous wave pool.
This tweet is unavailable or no longer exists.
He has also previously posted a snap piggybacking Slater to his Instagram, with the caption:
"It may look like Kelly Slater has the upper hand here, but basically I used my Jedi mind tricks and endless patience and waited till (sic) his little tiny arms grew tired then immediately reversed the position and gained complete control until he crumbed under my powers... maybe," he posted.
Kelly Slater then replied to the post saying "you drop in on me at surf ranch, this is what happens. Let your cronies know, Chris!"
Prior to becoming buds with Slater, Hemsworth revealed in Vanity Fair that he's such a fan of Slater that he cried after his dad told him he surfed with the sporting legend -- Chris missed out due to theatre class.
Mark Ruffalo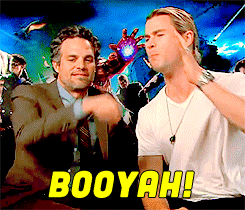 Another friendship to come from working on Thor together -- Mark Ruffalo and Chris Hemsworth love to give each other grief -- all in good fun, of course.
Last month, the pair even kicked off a lighthearted Twitter beef with one another, after Ruffalo jokingly stole Thor's actual hammer from Hemsworth's trailer.
"In my backpack I have Chris Hemsworth's Thor hammer," he told fans. "I'm trying to get away. I stole it from his trailer. We're going to use it for a fundraiser for the Stella Adler Conservatory where I went to school ."
"We're gonna fly you and a friend out, we're gonna put you up in a hotel, we're gonna invite you to come to the party, and at the end of this amazing, incredible experience we are gonna give you Thor's hammer."
Hemsworth later responded over Twitter, adding that while he didn't have an issue with the hammer going to charity, he didn't appreciate his pillow also being stolen.
"Firstly," he tweeted, "@MarkRuffalo if it's for charity then I'll forgive you. Secondly, you also stole my pillow… which was kinda weird. Are you auctioning that off as well or just for your personal use?"
Chris Evans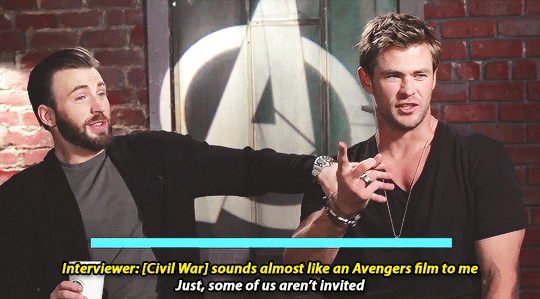 The Chrises have been friends for a number of years, with Evans even telling Esquire back in 2015 that Hemsworth is "like a brother to him."
"Oh yeah, [Chris Hemsworth] is like a brother at this point. We've had a very similar trajectory in, at least, being welcomed into this world. We both took these [Marvel hero] roles. We were both timid and nervous and didn't know how it was gonna play out. It's been nice to kind of share this with him," he told the publication.
"We each have the standalone films as well, which can be a whole separate element of pressure and anxiety, and he's just been so helpful to me. Just to have someone else who's going through the same struggles I am," he added.
Of course, the pair are currently doing the press rounds after starring in Avengers: End Game, reprising their roles as Thor and Captain America, and continue to reiterate their tight friendship.
Tom Hiddleston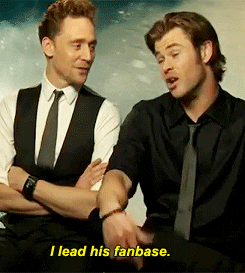 They played rival brothers on screen, but Chris and pal Tom Hiddleston are more akin to actual brothers when it comes to their IRL friendship.
They first met while filming Thor back in 2009, and they've been attached at the hip ever since.
"We came into this, at the same point in our careers, with the same enthusiasm and love for these types of films, and just had a great time doing it," Chris told Collider about his working relationship with Tom. "You either have chemistry with someone or you don't and, thankfully, it was there."
Meanwhile, Hiddleston totally agreed. "It's quite literally a bromance," Hiddleston told the publication. "We raised each other's game. We just had a really, really good time."
Luke and Liam Hemsworth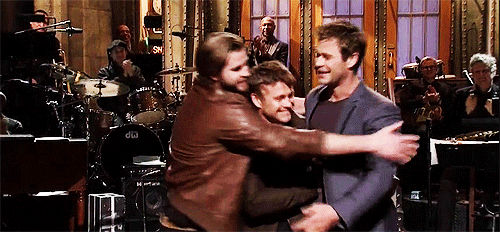 We couldn't create a bromance list without including Chris' actual brothers, Luke and Liam Hemsworth.
The Hemsworth fam are notoriously tight, with both brothers hitting up the premiere of the latest Avengers flick with their partners, including Liam's wife, Miley Cyrus and Luke's wife, Samantha. They were also joined by Hemsworth matriarch, Leonie.
Matt Damon
When it comes to bromances, Matt Damon and Chris Hemsworth take the cake, with the pair have pretty much been inseparable as they travelling all over the world together after first meeting on the set of Damon's 2010 flick Ca$h.
"I learned everything there is about being sexy from Matt," Hemsworth once joked to GQ. "We became friends around the time I started to work, and I've really benefited from watching how he handles himself. Matt's just a normal guy who has the movie-star thing figured out."
Not only are the pair friendly, but their wives -- Elsa Pataky and Luciana Barroso -- have also become very close after bonding over their fluency in Spanish.
"Chris has been a big fan of Matt Damon, me too, and then when I met his wife I'm even more a fan of his wife," Pataky told PEOPLE.
She added, "[Matt] is an amazing dad and an amazing person, he's so easy. And his wife is Argentinian so we speak Spanish. So for me it's a relief, yes, somebody I can speak Spanish with! We've become very good friends."
Just last month, Chris brought Matt along to an AFL game at Marvel Stadium in Melbourne where they were seen cheering on the players from inside a Marvel superheroes-themed corporate box.
The duo has become so close, that after rumours swirled that he had ditched longtime BFF Ben Affleck in favour of the Thor star, Affleck playfully responded to the report, saying, "Hey @chrishemsworth, you can have him!" Affleck tweeted. "I'm Team @JimmyKimmel anyways."
Hemsworth responded, "Sorry mate not my fault! He's just a big @Marvel fan, not @DCComics. How do you like them apples," he said, not only referring to Affleck's role as Batman but also quoting Good Will Hunting, which won Affleck and Damon a screenwriting Oscar.
Image: Getty