Kate Beckinsale Speaks Out About Dating Pete Davidson
Kate Beckinsale has opened up about her relationship with Pete Davidson, after the pair were spotted packing on the PDA over the last few weeks.
While she was careful not to mention his name directly, the actress opened up to the LA Times about their budding relationship for the first time.
Asked whether she's bothered by the amount of attention they receive by paparazzi and the general public, the 45-year-old revealed that the SNL star -- who is 20 years her junior -- is worth the hassle.
"I'm surprised by the interest," Beckinsale said.
"I've never been in this position before -- never dated anybody who comes with their own bag of mischief. It's all quite shocking, and something to get used to. I think if you liked the person less, you would bow out of it. If that were the main thrust of the relationship, there would be a problem. But it's not."
READ MORE: Kate Beckinsale Hospitalised After Ruptured Ovarian Cyst
While the actress seems to be too-loved up to care about the attention -- with the couple recently seen making out during a hockey game at Madison Square Garden -- she admitted that it can at times be invasive.
"I'd rather not have people hiding outside my house," she said. "It's a little old fashioned to have a woman's personal life [looked at like that]. It's a little bit tired."
Meanwhile, 25-year-old Davidson alluded to his new relationship during his 'Weekend Update' segment on SNL, poking fun at the haters who have issues with the duo's age-gap.
This tweet is unavailable or no longer exists.
"So if you have questions about a relationship with a big age difference, just ask Leonardo DiCaprio, Jason Statham, Michael Douglas, Richard Gere, Jeff Goldblum, Scott Disick, Dane Cook, Derek Jeter, Bruce Willis, Harrison Ford, Tommy Lee, Alec Baldwin, Sean Penn and whoever the president of France is. Mel Gibson, Billy Joel, Mick Jagger, Sylvester Stallone, Eddie Murphy, Kelsey Grammer," he listed.
"Larry King, Larry King, Larry King, Rod Stewart, and Donald Trump."
READ MORE: Queer's Eye's Antoni Now A Meme After Becoming Awkward Third Wheel
Kate's comments on her relationship with the comedian come just days after she wiped clean her Instagram after several users made negative comments about Davidson.
One day prior to deleting her photos, she also made headlines after giving a sassy response to David Spade, after he made a comment about her "liking them [men] young."
"@Davidspade never gonna happen grandpa," she wrote.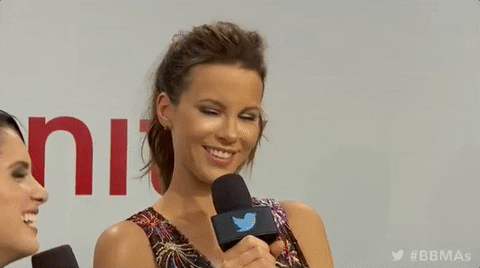 Queen!
Image: Getty