Cardi B's Mystery 'Tom Petty' Flowers Sender Revealed
Cardi B made an awkward gaffe following her Grammy's win when she thanked the Tom Petty for a bouquet she received, despite the fact the legendary singer died in 2017.
Turns out, unlike many fans suspected, the congratulatory bouquet wasn't a gift from her musical nemesis Nicki Minaj, nor Chris Brown -- who is currently feuding with Cardi's hubby Offset.
Turns out, the answer is a far more wholesome one. According to TMZ, the mystery gift came from florist of the stars and owner of Art Fleur, Annie Wonderlich.
So while Cardi read the note quoting lyrics of Petty's 1996 song, 'Walls' -- "You've got a big heart. So big it could crush this town" -- she assumed they were from the late singer and was subsequently grilled on social media.
READ MORE: Cardi B Thanks Tom Petty For Sending Flowers, Doesn't Realise He Died In 2017
BUT it turns out the lyrics.... were actually on the BACK of the card.
Yep.
When Cardi turned the card over there was a note from Annie reading, "Cardi B! Wishing you LOVE, LIGHT & LUCK tonight at the Grammys! All the best! XOXO, The Art Fleur Team."
READ MORE: Grammy Awards: All The Winners
Apparently, Annie has a whole slew of celeb clients -- including Kim Kardashian and Taylor Swift -- and her whole schtick is giving the recipient a card with a famous quote from the likes of Oscar Wilde, Claude Monet, David Bowie -- or, in Cardi's case -- Tom Petty.
According to the website, the floral arrangement also stood three and a half feet tall and included 250 vendulas, orange crush and garden roses as well as leaves painted with 24-karat gold. The going rate for this monster piece? a cool $600!
So there you have it, folks. Mystery solved!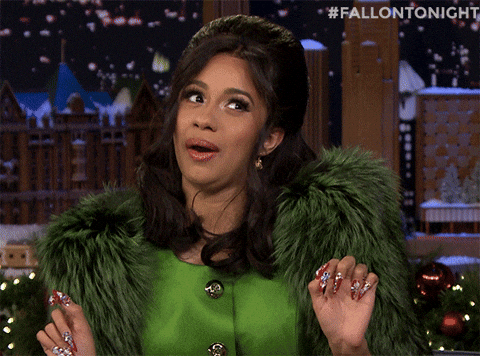 Image: Getty