Chanel Iman Is Still Traumatised By The Fyre Fest Pigs
Chanel Iman has shared the grim tale of her own involvement with Fyre Festival.
The supermodel was enlisted -- along with Shanina Shaik, Bella Hadid and Hailey Bieber-- to fly to the Bahamas to shoot the luxury promo video that convinced hundreds of rich kids to book their tickets to Fyre.
As seen in both newly released Fyre documentaries, the models seemed to have no idea about the sh** show they'd signed up for when they land on the Fyre Island.
READ MORE: Kendall Jenner And Bella Hadid Facing Subpoenas Over Fyre Fest
Iman opened up to People about the bizarre experience and said she "had no idea what was going to happen" but added that the most terrifying part of shooting the video was actually interacting with those vicious swimming pigs!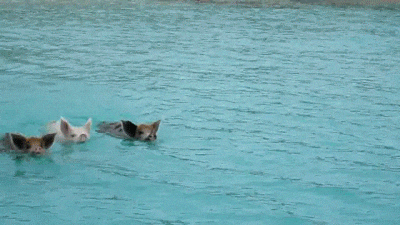 "I don't like going to that island to see those pigs cause they really, really will bite you," Iman said of the so-called Paradise Pigs that have become a tourist attraction Exhumas, a district of the Bahamas.
"If you see the Hulu documentary I am like running, I am jumping in the boat because I don't want anything to do with getting bit or getting hurt by the pigs."
This tweet is unavailable or no longer exists.
This tweet is unavailable or no longer exists.
This tweet is unavailable or no longer exists.
READ MORE: Fyre Festival's Andy King 'Blown Away By Becoming A Meme
"I know a lot of the girls are picking up the pigs, holding them, but like it just wasn't something that I wanted to do," she added.
While Iman had to endure being yelled at by Ja Rule to "jump in the f***ing water" and being bitten by a pig, she at least escaped the horrors of attending the actual Fyre Fest weekend.
"So my flight was booked to the Fyre Festival," Iman told People, adding that she and other models had been promised luxury villa accommodation.
"And thank god me and [now-husband] Sterling [Shepard] didn't hop on a flight because that was in our plans. We would have been stuck with everyone else," she said.
Main Image: Netflix