Jason Momoa Has Been Ripping Pages Out Of Amber Heard's Books
Jason Momoa is in a lot of trouble with local librarians, bookstore owners and bookworms around the globe for committing crimes against literature. 
Momoa and Heard both star in the upcoming Aquaman film and discussed an unfortunate habit of Khal Drogo's during an interview on Good Morning America this week.
Heard apparently spent most of her time on set suspended a good 10 metres in the air -- and had to hang around in her harness between takes. So the lovely Aquaman crew built her a dream library bag made of green-screen fabric so she could devour a few classic novels when the cameras weren't rolling.
But according to Heard -- Momoa wasn't too pleased that Heard's solo aerial book club meant that she could rudely ignore him.
"He adopted this method of ripping out the pages of my book so I would pay attention to him," Heard explained on Good Morning America.
"It would drive me crazy because I'd have 30 pages left and it would be gone."
READ MORE: Julie Andrews To Play Helpful Sea Monster In New 'Aquaman'
Momoa took the classic idiom much too literally and actually took a page out of Heard's book. Which Jezabel is pointing out is a very Gaston in Beauty And The Beast thing to do.
However, we would argue this kind of behaviour is more closely aligned with Bernard Black, owner of Black Books.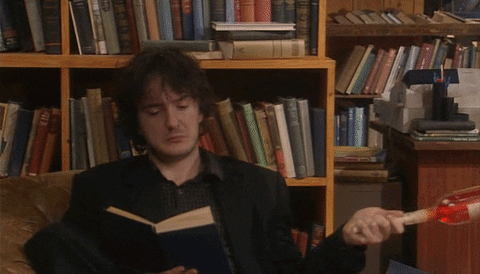 Main Image: Getty Images.