Kylie Jenner Slams Travis Scott Cheating Photo 'Prank'
Kylie Jenner isn't here for anyone coming for her fam.
On Monday, an Instagram user named DepressedSnack posted a snap of a guy who looked somewhat like Ky's baby daddy, Travis Scott, getting up close and personal with a woman who wasn't the makeup mogul.
While you can't definitively make out the faces in the suss photo, it was enough to have many fans thinking that the 'Sicko Mode' rapper was cheating on Kylie.
While Travis immediately responded to the snap, blasting the "trolls" who were responsible for faking the photo, saying:
"S**t cap ass f**kkkk TMZ ain't post this s**t. Trolls working hard today. I don't be on balcony wit no thots. That s**t lame. Try again u trollsssss. Me and my wifey sturdy. Back to celebrating!!!"
"Only got love for my wife. No time to be wasting. Try again," he added.
Later on -- in what seemed to mirror the whole Justin Bieber burrito saga from a few weeks back -- the entire thing was revealed to be a hoax after YouTuber ChristianAdamG soon uploaded a 17-minute video boasting that he'd "fooled the internet" by posing as Travis.
READ MORE: That Photo Of Justin Bieber Eating A Burrito Wrong Was A Hoax
READ MORE: Travis Scott Was 'Freaked Out' By Kylie Jenner's Placenta During Stormi's Birth
While Christian insisted that the video "was NOT made to intentionally hurt Travis Scott, Kylie Jenner or any of the entire Kardashian family in ANY way shape or form," Kylie was not at all impressed with the cheap joke.
In a now-deleted note on Instagram, she wrote:
"IDK if this is really a social experiment to some people but you're messing with real people, real relationships, real family," Kylie's caption for the pic read.
"I'm happy my relationship is strong because this is getting out of hand. the internet scares me sometimes for real."
Meanwhile, big sisters Kim and Khloe blasted the "prank" over Twitter, with Kimmy writing, "I hate that I am bringing attention to this but this is absolutely disgusting that you would find this funny to mess with Travis & Kylie who just started a family together. This is really damaging to relationships, families and is just so wrong!"
This tweet is unavailable or no longer exists.
Khloe added "People are absolutely disgusting! The mind games this would do to somebody… That is so completely not OK! This person should be so ashamed of themselves! What filth."
This tweet is unavailable or no longer exists.
Yikes. Let hope this cruel type of "prank" doesn't become a trend.
Meanwhile, Mama Kris is probably off calling her lawyers rn like: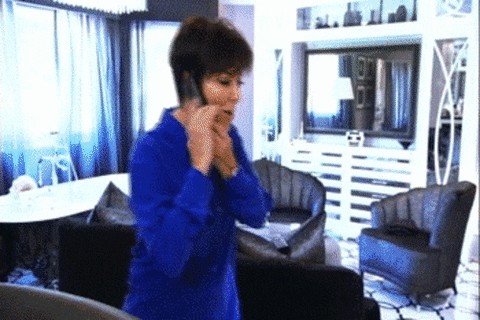 Image: Getty, Youtube.