All The Times Alec Baldwin Has Tried To Fight People
Following the news that the 'SNL' star had been arrested for yet another altercation, we took a trip down memory lane to remember all the times the star has cracked the absolute sh*ts.
Alec Baldwin was arrested and charged with assault and harassment last Friday after he allegedly punched a 49-year-old man in the face over a parking space, New York police said.
READ MORE: Alec Baldwin Speaks Out After Being Arrested For Assault
Following the arrest, Baldwin spoke out over Twitter, where he vehemently denied the altercation starting "over a parking space."
This tweet is unavailable or no longer exists.
This tweet is unavailable or no longer exists.
But unless you've been living under a rock, you'd know that it's definitely not the first time Alec's been involved in a bit of a brouhaha, with the star being infamous for his volatile temper.
In fact, he's continually made it known that he flat out HATES the paparazzi, with more than one of his arrests being a result of scuffles with assorted photographers.
Just yesterday, Baldwin reiterated his disdain for them when he posted a snap to his 'gram of a paparazzo on the prowl, along with the caption, "Morning in NY."
READ MORE: Alec Baldwin On Playing Trump: "Black People Love Me"
So just because we can, here's a definitive list of every time Alec Baldwin has been arrested/tried to fight someone/lost his temper over his time in the spotlight. Enjoy!
1995: The Pap Punch
After a photographer tried to snap pics of his then-wife Kim Basinger and their baby daughter -- Ireland -- Alec famously punched the offending cameraman in the nose and was placed under citizen's arrest.
Following the incident, Baldwin released a statement which read:
"Anyone with a shred of human decency would understand that there are times in your life when you want your privacy respected ... I do believe that bringing your wife and 3-day-old baby home from the hospital is one of those occasions." He continued: "I'm sorry for any problems caused and I look forward to (the photographer) Mr. Zanger and I putting this behind us."
2007: The Infamous 'Pig' Voicemail
Who could forget the pig voicemail??? ICYMI: an audio recording was leaked of the star firing off insults to ex-wife Kim, and to top it all off he also called a then 11-year-old Ireland "a rude, thoughtless little pig."
Baldwin later publicly apologised, citing frustration over custody proceedings for his meltdown.
Eight years later, Alec and Ireland had a laugh over the whole mess, with the pair taking a photo of the two of them reading a book called "If I Were a Pig ... "
2011: The Words With Friends Incident
Baldwin was kicked off an American Airlines flight back in 2011 after he refused to stop playing 'Words With Friends'. Yes, as in the iPhone Scrabble-type game.
According to a Facebook post by the airline, Baldwin got "aggressive" when he was asked to turn off his phone and was later removed from the plane when he "slammed the lavatory door so hard, the cockpit crew heard it and became alarmed." They added that he "was extremely rude to the crew, calling them inappropriate names and using offensive language."
Baldwin later said in a piece published by Huffington Post, "It was never my intention to inconvenience anyone with my 'issue' with a certain flight attendant. The lesson I've learned is to keep my phone off when the 1950s gym teacher is on duty."
2013: The Twitter War
After Daily Mail journalist George Stark accused his wife Hilaria of tweeting during James Gandolfini's funeral, the actor jumped in to defend his spouse over Twitter in a slew of expletive-ridden tweets.
He later "apologised" to the journo, saying, "My ill-advised attack on George Stark of the Daily Mail had absolutely nothing to do with issues of anyone's sexual orientation," a statement to GLAAD (Gay and Lesbian Alliance Against Defamation) read.
"My anger was directed at Mr. Stark for blatantly lying and disseminating libelous information about my wife and her conduct at our friend's funeral service. As someone who fights against homophobia, I apologise."
2013: The Homophobic Slur
After insisting he was "someone who fights against homophobia", just months after abusing a Daily Mail journalist, the actor was caught on video chasing a photographer down the street while yelling homophobic slurs.
His show with MSNBC at the time -- Up Late With Alec Baldwin -- was quickly pulled off the air for two weeks and later cancelled.
He addressed the incident in yet another HuffPo statement, saying, "Two requests. Don't allow my problem to be MSNBC's problem. They are good people who work hard at a job, just like many of you. And two, please respect the privacy of my wife and family."
2014: Biking Bad
This tweet is unavailable or no longer exists.
The star again ran into trouble after he was caught riding his bicycle the wrong way down a one-way street on Fifth Avenue. Reports said that Baldwin became "belligerent" with police officers and "started arguing" as he refused to give them his ID. The officers then arrested him.
Still salty over the sitch, he later posted the officer's name and badge number on Twitter, calling New York "a mismanaged carnival of stupidity that is desperate for revenue and anxious to criminalize behavior once thought benign".
All we have to say is... Yikes.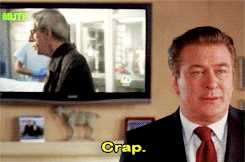 Image: Getty