A$AP Rocky Talks Sex, Drugs And Orgies In Wild Esquire Interview
A$AP Rocky has given a raw insight into his rock'n'roll lifestyle in a telling new interview.
Speaking to Esquire, the rapper -- who was previously rumoured to be dating Kendall Jenner -- spilled the tea on everything from his crazy sex parties, to the $100,000 bed he designed himself.
READ MORE: Kendall Jenner And Hailey Baldwin Take Lie Detector Test In New Carpool Karaoke
Rocky (real name Rakim Mayers), certainly didn't hold back when it came to discussing his sex life, with the star revealing he regularly partakes in orgies, with his first being when he was just 13 years old.
"I've photographed and documented many of them," he said, adding. "My first orgy was when I was in seventh grade. 13 years old... My dad had gone to jail for drugs, so my mom moved us to a homeless shelter," he said, adding, "Our school was like three blocks away, and they used to let us out for lunch... We took the elevator to the roof, and everybody put their coats on the ground. There were like five girls and 10 guys, and we all just took turns."
READ MORE: Paul McCartney Fondly Remembers Masturbating With John Lennon
"The women that I'm around are into that free-spirited shit like me," he continued.
"Usually guys are insecure with working, successful women, they can't handle it when it's on the other foot, you know? So they get with a guy like me -- they know I don't want to break their hearts or nothing. And why not? Let's smoke some good weed in the teepee and have a fun time!" he added.
Speaking about previous drug use -- particularly LSD -- the 30-year-old said:
"Growing up, I felt like white people were threatened by my kind, and sometimes black people didn't understand me, either," he said, adding, "So I seen both sides. But when I took LSD, both of those worlds went like this," he said, pointing to his heart.
"I wasn't mad at people for prejudging me anymore, black or white. It's just us. As a minority, it helped me feel more like a human being."
The "Fashion Killa" rapper also spoke about dropping a cool $100k on a massive bed for himself, describing it as "fucking gigantic."
"I need it because I have a lot of orgies at my house with some very close female companions," he added.
... Fair enough.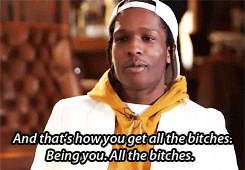 Image: Getty