Cardi B Hits Back At Make Up Artist Who Called Her 'The Worst Client Ever'
It's been a turbulent couple of months for Cardi B.
There was the drama over her Facebook account posting a transphobic meme (she claimed it was a "former team member"), there was that infamous punch-on with Nicki Minaj, and soon after she was arrested for a separate brawl that took place in a strip club.
Now, the controversial singer is hitting back at Houston based makeup-artist and YouTuber Mua Blacswan after she claimed that Cardi was "one of the rudest people" she's worked for.
READ MORE: Cardi B Turns Self In, Charged With Assault Following Strip Club Brawl
READ MORE: Cardi B Denies Posting Offensive Transphobic Meme On Her Facebook Page
ICYMI; back in January, a makeup artist that goes by the name Mua Blacswan on YouTube uploaded a video in which she describes being hired to do Cardi's makeup for an event, choking up as she recalls how she was treated by the star.
She alleges that the 'Bodak Yellow' singer was rude, dismissive, insulting, cursed at her, and eventually kicked her out without paying for the artist's time.
For whatever reason, Cardi only addressed the artist's claimed this week over Instagram Live, where she accused the makeup artist of being "mad high" and running late. She also questioned why she was upset over "something that happened two years ago".
"You don't know how to do your job. Somebody contacts you, you come mad late -- you come mad high, high as f*ck! In the middle of the process, I'm telling you, 'I don't like how my make up is looking,'" Cardi said on the video.
She continues, "Then when I say 'I don't like it,' I wipe my face off and tell you to get the fuck out -- leave." She then accused her of "Clout chasing," adding, "I hate when you become a celebrity and anybody can say something about you."
Unfortunately for Cardi, Mua Blacswan had receipts on hand that she uploaded to her own Insta story, immediately poking holes in Cardi's version of events.
They not only proved she wasn't late (she was actually early), but text messages she provided showed the rapper's reps apologising for the star's rude behaviour. On top of this, they showed that the incident took place in December last year, not two years ago as the singer stated.
Mua Blacswan also blasted the star for accusing her of being on drugs, saying in a text post to her story:
"This is not ok! I don't care what people have to say about my video! The fact that I'm a mother and she says this is a whole new level. Drug allegations are not to be taken lightly!"
She added, "The drug allegations she made will not go ignored... And that is NOT ok!"
To make the whole shebang even messier, Cardi's current MUA Erika La Pearl posted a message to her 'gram calling Blacswan a liar -- who immediately sent her the above receipts proving Cardi was in the wrong.
Erika then dismissed the pop star's behaviour, saying "she probably wasn't having a good day," while Blacswan blasted her for discrediting a fellow makeup artist without any proof.
Finally, Blacswan provided a text message (with private information blacked out), saying that after seeing the video upon its initial release, Cardi's team contacted her to apologise.
Yikes... What a sh*tshow!!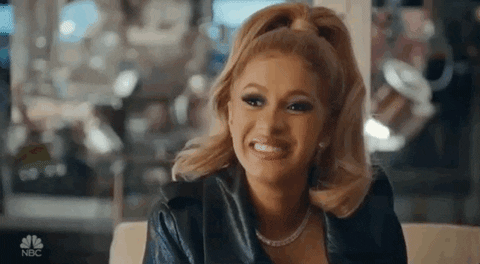 Image: Getty/Youtube